Many moons ago, I asked my friend Tom Burke, then Director of Friends of the Earth, what he really thought would happen if we failed to get to grips with increasing global temperatures. 'Well,' he replied, 'you'd better be prepared to go to Scotland and take a gun'. The image stayed with me – but I didn't know how to write the book he was telling me needed to be written. The subject was too big, too disempowering – people's eyes glazed over when you mentioned it.
Years later, a chance encounter with a real climate-change story (melting ice-graves on the Arctic island of Herschel) gave me a way in to the subject and I wrote a play –Island – for the National Theatre, which I later re-wrote as a novel. The book made the Carnegie longlist and was routinely called 'beautiful', 'calm and magical' and 'full of wisdom', but somehow the Arctic setting meant that, for most people, the drama was just too far away – both geographically and emotionally. Not our problem.
Then came the migrant crisis – and the hardening of attitudes and borders. And now the girl with the gun came back to nag me. Might her story intersect with this new anxiety? And why were we so anxious anyway, so lacking in empathy? I began to think it might be because for us in the north (in Europe particularly) the migrant is almost always 'other', as we are not the displaced, the ones forced to travel. So here was my challenge: could I finally bring this story 'home'? Write about a very near future where one of those displaced people could truthfully be you – or me?
The result was The Survival Game: the girl with the gun, Mhairi, and the story about what she's prepared to risk – or sacrifice – to get to safety in a climate changed world. It seems that this story has hit harder (published in numerous territories, already optioned for film etc) but it ran into the sand in America. Six major publishers put in bids, offering eye-watering amounts of money – but only if I'd change the ending. I refused. Disney didn't seem quite where we're headed.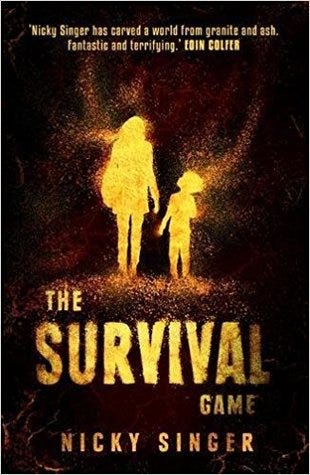 But I thought I'd check in with my friend Tom again. He now heads up the independent climate think tank E3G. He doesn't think we're headed for Disney either, in fact the only change in his advice re Scotland is to get there quicker and take some friends. I got out my list of additional climate questions. 'Let's talk about story,' he said. 'Story is the only thing that matters. Facts don't persuade people, stories do.'
I didn't need asking twice. So, what does Tom want from story makers now?
He explained it like this: about 5000 years ago a guy turned up on Salisbury Plain and told the subsistence farmers there a story. The farmers had a life expectancy of about 20-30 years and were beset with forces they couldn't control; wild beasts, pathogens, raiders, extreme weather events etc. Plenty to be getting on with. But whatever the storyteller said, made then get up, walk 150 miles to the North West, dig up a bunch of huge stones and drag them back to the Plain, erecting them into what we now know as Stonehenge.
What on earth did the storyteller say?
In terms of time and technology, the achievement of those farmers is, Tom suggests, equivalent to the mountains we must move to save ourselves from climate catastrophe. Only instead of persuading a bunch of farmers, we have to persuade the 8 billion people currently on earth. And we don't have a story.
So – I hazarded, you're saying, as writers, we've failed in our job?
Yes, Tom said. (He doesn't get to address governments about this stuff without being straight talking.) Put another way, the sci-fi dystopian stuff, is only half of the job. In order to create a better future, Tom believes we need to be able to imagine it first. We need to have an image as strong as the Garden of Eden to aim towards. ie it has to be aspirational, something as big as god was before the death of religion or as reason before the demise of the Enlightenment. A story, if you like, outside all normal boundaries.
Piece of cake, eh?
I know what you're thinking, because I was thinking it too. What Tom actually wants is a Good News story and 'as any fule kno', good news is death to story makers which is why eg Paradise Lost is a marvel and Paradise Regained – isn't.
Just before anyone throws in the towel here, let me (or rather Tom) re-cap on timescale and context. Unless we've seriously decarbonized by 2050 then we've had it, not as a species (some of us will survive, of course) but as a civilization. It's already beginning to happen (increased tribalism, nationalism, rats in sacks) but it won't come with a label on. Another of Tom's stories (hey, why doesn't he do this job himself?) is the Persian Carpet analogy: the pattern on a carpet in an area of high traffic gets worn away. But not at the same rate everywhere, for a long time, there will still be islands of colour among the faded bits, and you'll still be able (just) to imagine the pattern. Then, one day, a seemingly small erasure will tip the balance. Substitute order/disorder for pattern and fray and you get the picture. This, incidentally is why Tom thinks the scenario in The Survival Game is 'just a matter of time' because there's an island of functionality (Arran) and many patches of fray on the journey from the Sudan. Meanwhile, as a comparator, no-one will be going on holiday to Southern Spain or Italy in 50 years' time. It will be too hot to be pleasant.
So – back to the challenge. What's the story? Can we make 'a narrative loop around the future and make it accessible'? We've unlocked the secrets of the cell and the atom but not the nucleus of wisdom.
So – one helluva big story needed and not much time. Who's up for it?
You can find out more about The Survival Game here.
Tom Burke is the Head of Climate Change Think Tank E3G
Nicky Singer has written four novels for adults, two books of non-fiction but most of her recent work is for young people. Her first children's novel Feather Boy won the Blue Peter 'Book of the Year' Award, was adapted for TV (winning a BAFTA for Best Children's Drama) and then commissioned by the National Theatre as a musical with lyrics by Don Black and music by Debbie Wiseman. Her new novel The Survival Game is a migration road-movie about a girl with a bullet-less gun and what she's prepared to risk – or sacrifice – to stay alive in a climate ravaged world. If you want to join the conversation about how to keep our planet beautiful and our future bright, check the #ChooseLovetoSurvive campaign.
Climate Change in the News
Stopping Carbon Pollution by 2050 Would Add $1 Trillion to the Economy [Gizmodo]
Global Action Is 'Very Far' From What's Needed to Avert Climate Chaos [NY Times]
THE CLIMATE CONTROVERSY SWIRLING AROUND NFTS [The Verge]
Video panel: League founder Lauren James talks to climate activists Dr. Sinead Collins, Laura Lam and Dr. Johanne Vad, whose work looks at animal behaviour around oil rigs
---
Teaching Resources
Are you an educator or librarian? We'd love to hear how you teach your students about climate change, to help guide our work in the future. You can fill out a survey here.
See below for a book-related teaching quiz about water resources.
Memory of Water, written by Emmi Itäranta, explores a setting in which clean water is a scarce and controlled commodity. The book is set in a post-war Finland which has been taken over by a foreign power. Rising sea levels, war, and other environmental factors have eradicated many sources of water. Access to clean water is limited and under military control. The possession of any secret water source, such as a well or a spring, is a crime punishable by death.
The book is written from the perspective of seventeen-year-old Noria as she takes over the responsibilities of tea master from her father. A position which will force Noria to know of, and protect, a secret spring. A spring her family has taken care of for generations. After the death of her father, Noria must decide whether to keep the spring safe or go off on her own in pursuit of knowledge.
As clean water becomes an ever-scarcer commodity in our world, Memory of Water invokes a sense of alarm within its reader. The dystopian setting that Noria is forced to contend with seems like a not-so-distant future to the modern reader. How much water are we using? And how long can we continue to take clean water for granted without repercussions?
Although the idea of clean water running out is uncomfortable, it is important to address. It is especially important to take note of how much water we are currently using, so we can find ways to eliminate practices that waste and/or deplete our fresh water supply.
Test your knowledge of water usage within the UK by taking our quiz!