Today, two authors discuss their writing: Rab Ferguson, author of the Young Adult dystopian fantasy novel Landfill Mountains, and Rich Larson, whose story Tidings won third place in Grist's climate fiction competition Imagine 2200. Read or listen to a 25-min audio recording of the story online here.
You can read Sim Kern's previous interview with the competition winner Lindsey Brodeck here, and Cynthia Zhang's interview with the second-place runner up Saul Tanpepper here.
Rab: Hi Rich. Excited to talk to you today about your short story Tidings and my novel LandfillMountains. There were really intriguing parallels between the two, and I'm looking forward to diving in deep with you around climate fiction, and the role it plays as a genre.
But I'm getting ahead of myself. Let's start at the beginning, which as they say, is a very good place to start. Tidings won third place in Grist's Imagine 2200 initiative. The story is well deserving of that achievement, poetic in the way its imagery shifts as it flashes forward through time, displaying glimpses of different characters' lives on a changing earth.
Could you tell us a bit more about Imagine 2200, and also how you would describe Tidings to a potential reader?
Rich: Imagine 2200 is a big, beautiful, ambitious writing contest run by people intensely dedicated to climate solutions and justice. That theme ignited a lot of imaginations, to the tune of over 1100 entries, and I feel very lucky to have my entry noticed amid that creative outpouring. Tidings is not a traditional short story, but instead a series of linked vignettes speeding through futures shaped by the climate crisis, and its many co-crises, all around the world. It takes inspiration from the places I've lived, and from the social and scientific initiatives that give me some slim hope for the planet.
I'm eager to talk about Landfill Mountains, a book that opens in misery and moves toward a place of hope. I was immediately struck by the vivid setting, and reminded of Johannesburg's waste pickers. What inspired those titular mountains? What sparked your imagination?
Rab: Imagine 2200 is a wonderful concept, and I can see why Tidings stuck out! Something that worked for me about Tidings was that despite following different characters in each vignette, there was a sense of an underlying narrative across the piece – like they were all parts of that bigger story of the world. I certainly felt some hope (however slim) in the way the story was told.
The mountains were where the whole book began! I was actually in a theatre workshop, years before starting the novel. We were doing an exercise around designing sets and props, and I based my design around thinking about how people one day might survive by scavenging from what we've thrown away. That world stayed with me, rising up in my mind every time I saw a news story around environmental damage. I wanted to know what the people who lived amongst the waste would think of the society that left it that way. I'd watched a couple of documentaries around landfill sites and people making a living from waste in different parts of the world, and dove deeper into research to find out more about life around landfill. Like so often with sci-fi and speculative fiction, by writing about the future I was really writing about right now!
I'm glad you mentioned hope. It felt important to me, despite its bleak setting, for Landfill Mountains to have hope within it. I wonder if you have any thoughts on why it can feel important for stories about climate change to have a shred of hope within them, however slim?
Rich: Writing about now by writing about the future – that recalls the Gibson quote for me, how the future's already here, just not evenly distributed. The climate crisis is the same way. It's been ongoing for decades, just not where people with wealth and privilege have to look at it. Your book really made me think about that: living on Landfill Mountains is both a post-apocalyptic scenario, and already a reality in some places.
That kind of reflection is haunting, and depressing, and somewhat overwhelming, which is why that shred of hope you mention is so important. I've always held that fiction does not have any particular duty other than the expression and evocation of human feelings. But we are, all of us, experiencing a climate emergency, and I think all of us now have a duty to use our skills to combat it.
For you and I, our skill is writing speculative fiction. By churning up fanciful technological advances and better futures, we can potentially inspire people much smarter and more capable than ourselves to make them a reality. So while I'm not a hopeful person myself, I viewed it as my duty, when writing Tidings, to sinter it with hope.
Did you take the same tack with Landfill Mountains?
Rab: I love that Gibson quote! That's very true around the climate crisis already impacting a lot of people. I've recently been getting frustrated with the "ticking doomsday clock" narrative that's often used around climate change, where the idea is we are running out of time to prevent the damaging impact of climate change. It lacks immediacy! Maybe if public perception on climate change can shift from a future problem to a right now problem, it can help force leaders to stop kicking the can down the road.
It's interesting when thinking about duty in writing, because as a Young Adult novel, I was hoping for Landfill Mountains to have about a 50/50 split between teenagers and adults (good YA can always be enjoyed by adults too!). Those younger readers are well aware of the problems of climate change, and are a generation where many are struggling with eco-anxiety or a feeling of a bleak future. I felt obliged to show humans adapting and surviving, and finding some sort of joy, even in the hardest of times – if only to share my own ways of finding hope with those readers.
Storytelling is one way I know of finding joy, hope and meaning in life, which is why it plays a key role in the Landfill Mountains. Storytelling is partly about how we remember things, partly how we understand the present, and partly how we communicate meaning with each other. I was intrigued to see all these parts appearing in the technology in Tidings – from babeltech, to virtual memory, to video tattoos. I wondered if you could talk a little about exploring technology in this story, and in your writing in general?
Rich: Technology has always been fascinating to me, and Tidings shoots for the moon in terms of possible breakthroughs – perhaps too much so. Because we're alive during a period of incredible technological advancement, it's easy to fall into the trap of thinking scientists can sort out anything, even a thing as massive as man-made climate change.
The truth is that no scientific breakthrough is going to reverse the damage already done, or let the privileged keep chugging along at our current level of comfort. While technology will play a role in mitigation, change will have to be primarily societal. Which is a whole lot messier to map out.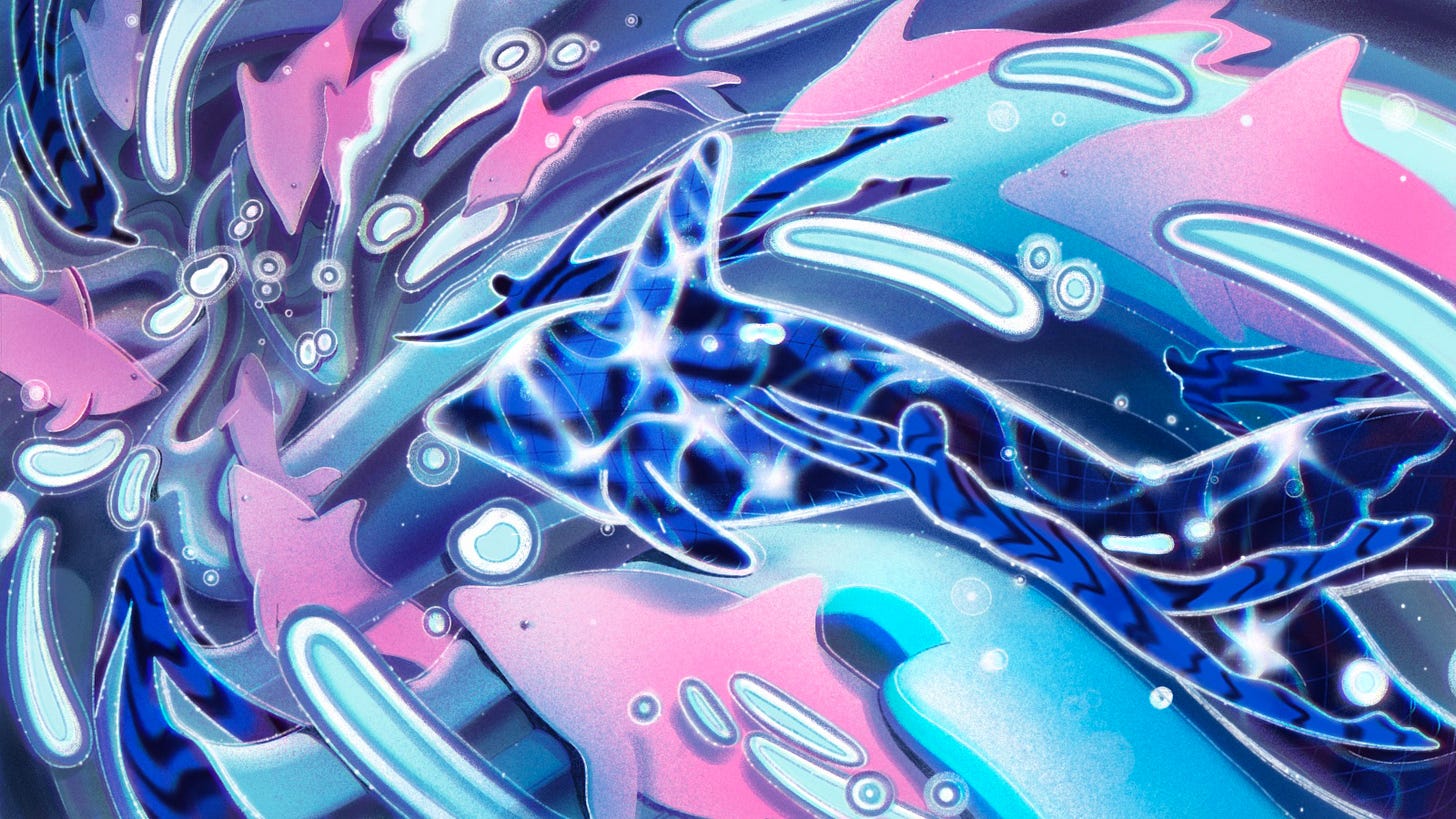 Landfill Mountains presents an interesting possibility for how a society might restructure itself during the climate crisis, with the interplay of scavengers, farmers, drivers, etc. Was that something you planned out in advance? Or did it evolve and surprise you as you wrote the book?
Rab: That's an easy trap to fall into around technology. I know I can end up putting a lot of hope into ideas like carbon capture, perhaps because it feels so unlikely for human behaviour and society to change as quickly as we need it to. But we can't let these reasons for hope become excuses for further delaying change. I liked seeing those technologies in Tidings though. It felt almost like a road map displaying that not all possible futures are completely doomed, and there's potential light at the end of this tunnel.
In terms of creating the world of LandfillMountains, I knew I wanted a setting where humanity had not managed to make wide societal change in reaction to climate change, and now instead were having to make decisions in small communities in order to survive – which at least is something we're better at. I had the waste scavengers' life planned out before starting, and the rest of the setting grew into existence around the central location. I liked the idea that they only knew what was going on in their little segment of the Earth since this crisis, but could still remember the time of the internet when they knew the whole planet at once. We sort of went opposite ways with technologies – you explored what their advancement might mean, and I explored how we would live if we lost them!
Any final thoughts to finish us off?
Rich: I guess that binary speaks to the dual role climate fiction needs to play: it should scare us, because we're heading for increasingly scary times, but it should also offer us that kernel of hope, as discussed.
It's been a pleasure picking your brain, and getting a better understanding of how Landfill Mountains came about. Thanks for taking the time.
Rab: And thanks for talking to me about Tidings. It's amazing that such a beautiful piece of fiction is available for free online. I suggest everyone reading this should check it out!
You can find out more about Landfill Mountains and Rab's writing here. Find out more about Rich's writing here, and read Tidings here.
The story is part of Imagine 2200: Climate Fiction for Future Ancestors, the first climate-fiction contest from Fix, Grist's solutions lab. Imagine 2200 asked writers to imagine the next 180 years of equitable climate progress, and the winning stories feature intersectional worlds in which no community is left behind. Read all 12 stories in the collection.
Rich Larson was born in Galmi, Niger, has lived in Spain and Czech Republic, and is currently based in Grande Prairie, Canada. He is the author of Annex and Tomorrow Factory, and his fiction has been translated into over a dozen languages. His first screen adaptation, "Ice," won the 2021 Emmy Award for Outstanding Short Form Animated Program.
Rab Ferguson is a writer and storyteller. He developed his craft through writing short fiction and poetry, and has had work published in various magazines and anthologies over the last decade. His debut, environmental with-a-touch-of-magic YA novel Landfill Mountains, is out now. When not writing, he enjoys cycling, cats, and listening to the music of Bruce Springsteen. He has not yet found a way to combine those interests practically.