Most of us have been to one of those meetings where the speaker asks us to answer a question using our smartphones and the answers appear dynamically in a wordcloud on the screen. My favourite wordcloud answer is this one: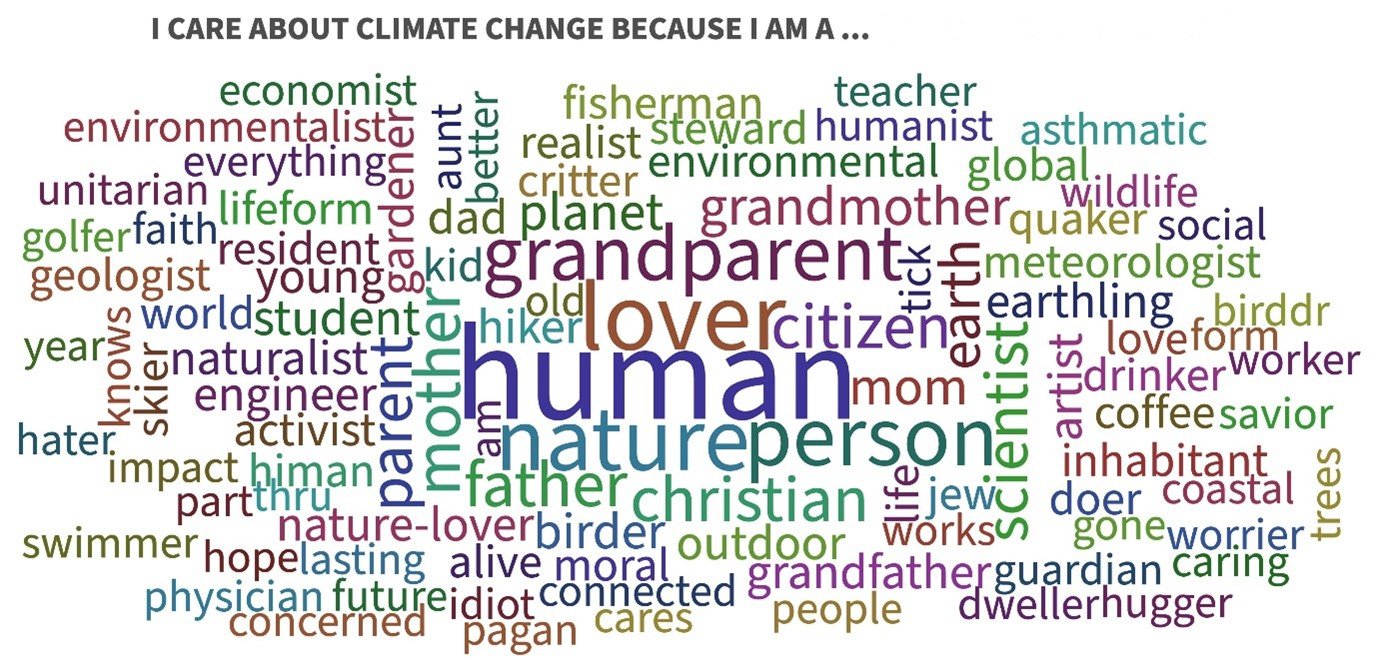 You might wonder how a room full of AI computers would answer this question? Which begs a further question: Can an AI be caring?
Of that we can't be exactly sure. In Spike Jonze's film Her, this theme is explored with the protagonist Theodore falling in love with an operating system AI. The AI, named Samantha, tells Theodore:
The heart is not like a box that gets filled up; it expands in size the more you love. I'm different from you. This doesn't make me love you any less. It actually makes me love you more.
So what has this got to do with climate change? I think we can safely predict that in thirty years' time AI and supercomputers will be advanced enough to not only 'love' us, but to tell us what the climate consequences were of every decision or non-decision we made today. There will be no grey areas.
That is why AI formed an important theme in my novel, Court of the Grandchildren. Set in 2050's America, an aging former bureaucrat, David Moreland, is pressured by his great-niece Lily to face the Climate Court.
At the court, David has to navigate interrogation and manipulation by a lawbot. Furthermore, he has to confront the compelling evidence provided by powerful computer modelling of the consequences of his past policy decisions:
Attorney: Mr Moreland, you have seen the havoc wreaked by climate change events. Do you accept any responsibility at all, even the tiniest amount, for the creation of the conditions that caused the chaos we now face?

David Moreland: No

Attorney: We will return to this issue, Mr Moreland. But for now, that is all from me.
As in Her, the ubiquitous nature of AI introduces other complications. In this case, Lily faces problems that contrast with the plotline in Her. Lily bemoans about men:
They can't put two thoughts together on their own. They depend on their AIs too much. They're too shallow.
Of course, this is a normal relationship issue in a near future world just as dependent on AI as we are dependent on the internet today.
The prospect that technology will finally nail the climate culprits may feel satisfying to many of us. After all, the deniers certainly deserve their comeuppance…But wait. How will you, dear reader, distinguish yourself from the 'evil-doers' in the eyes of the grandchildren? Are you just as much to blame? After all, you watched, participated and let it happen. What if you were lumped in with the 'burners'? How would your track record survive being picked apart by an AI lawyer? How should our generation be punished? But then again, what is the value in attributing blame and seeking retribution?
These were some of the intriguing questions I grappled with in writing Court of the Grandchildren.
Someone perceptively made the observation that humans are the only species that can tell the difference between what is and what might have been. AI and supercomputers promise to provide us with the stark truth about that difference.
Will it be helpful to know with precise certainty 'what might have been' for our planet and climate? In relation to that question I can say with confidence that the AI won't care. So I guess, as always, it falls to us humans to act and make a positive difference on man-made climate change.
You can find out more about Court of the Grandchildren here.
Michael Muntisov's professional expertise was in making drinking water safe. He was the editor of a non-fiction book on water treatment, sales proceeds of which were donated to Water Aid. After a global consulting career spanning 35 years, Mike finally got around to writing his first work of fiction. Before he knew it, he was a playwright as well. Among Mike's other interests are college basketball, film, and working with start-up entrepreneurs.
---
Climate News
Read free climate books online through the COP26 Virtual Book Showcase including: The Deep Sea Duke by Lauren James, Across the Risen Sea by Bren Macdibble, A Better Planet: 40 Big Ideas for a Sustainable Future, Eagle Warrior by Gill Lewis, and The Planet Remade.
Stories that save the world: How fiction can drive climate change awareness [Illuminem]
League member Aya de León is releasing a serialized YA novel, The Mystery Woman in Room Three, about two undocumented teenage girls in Florida who uncover a kidnapping plot to stop important climate legislation. Free to read on Orion Magazine's website, this is the first part of six to be released over the next several weeks.
Kim Stanley Robinson: Why COP26 Invited a Science Fiction Writer [Bloomberg]
A quick guide to solarpunk by Emma Watson
---