Writing eco-fiction for children presents a unique set of challenges. How much about the ongoing climate crisis can kids fully understand? And how do we write about it without the stories becoming too grim and downbeat?
Authors Vashti Hardy and Tom Huddleston have both woven ecological themes into exciting adventure stories for children aged 8 and up. In Hardy's mysterious and lyrical new book Crowfall, a boy living on an overpopulated island discovers the dark secret that keeps his isolated world running – and sets out on an ocean voyage to another island where people appear to live in harmony with nature. In Huddleston's action-packed FloodWorld trilogy (FloodWorld, DustRoad and the new instalment StormTide), two street kids living in a flooded city of the future stumble upon a secret map and are hurled into a world of seagoing pirates, terrorist plots and blockbuster adventure.
We asked the two authors to interview each other about the joys and difficulties of writing climate fiction for younger readers, their inspirations as writers, and what they've got coming up next.
Tom: Hi Vashti! I've been reading the wonderful Crowfall and was wondering, when did you first decide that you wanted your new book to explore ecological themes? Did that idea come first, or did you start more with the world and/or the characters?
Vashti: Hi Tom, great to be chatting about our eco-themed books together!
The idea for Crowfall came before the world. Originally, the concept of a huge, living, breathing, sentient organism, known as the Eard in Crowfall, was part of a different world in a story I wrote called The Seer. It wasn't published, but it was the book my agent signed me for about six years ago. I always knew that the core idea was worth exploring, I just had to find the right world and characters for it. Since I was a child, I've always been fascinated by the relationship between humans and the natural world and the way that humans often see themselves as superior to and separate from nature, considering animals, plants and minerals as resources to be exploited for humankind. There are some big questions that arise from this: our responsibility to nature, the planet, resources, our relationship with technology, etc. The idea of this great sentient creature, part plant, part animal-like, which can live symbiotically with humans, grew from these musings. Often the best lens to explore the big questions of the world is through fantasy and children's fiction, because it allows the space for big 'what ifs', with added fun and adventure, so taking the Eard and growing Orin's world and personality around it seemed to work well.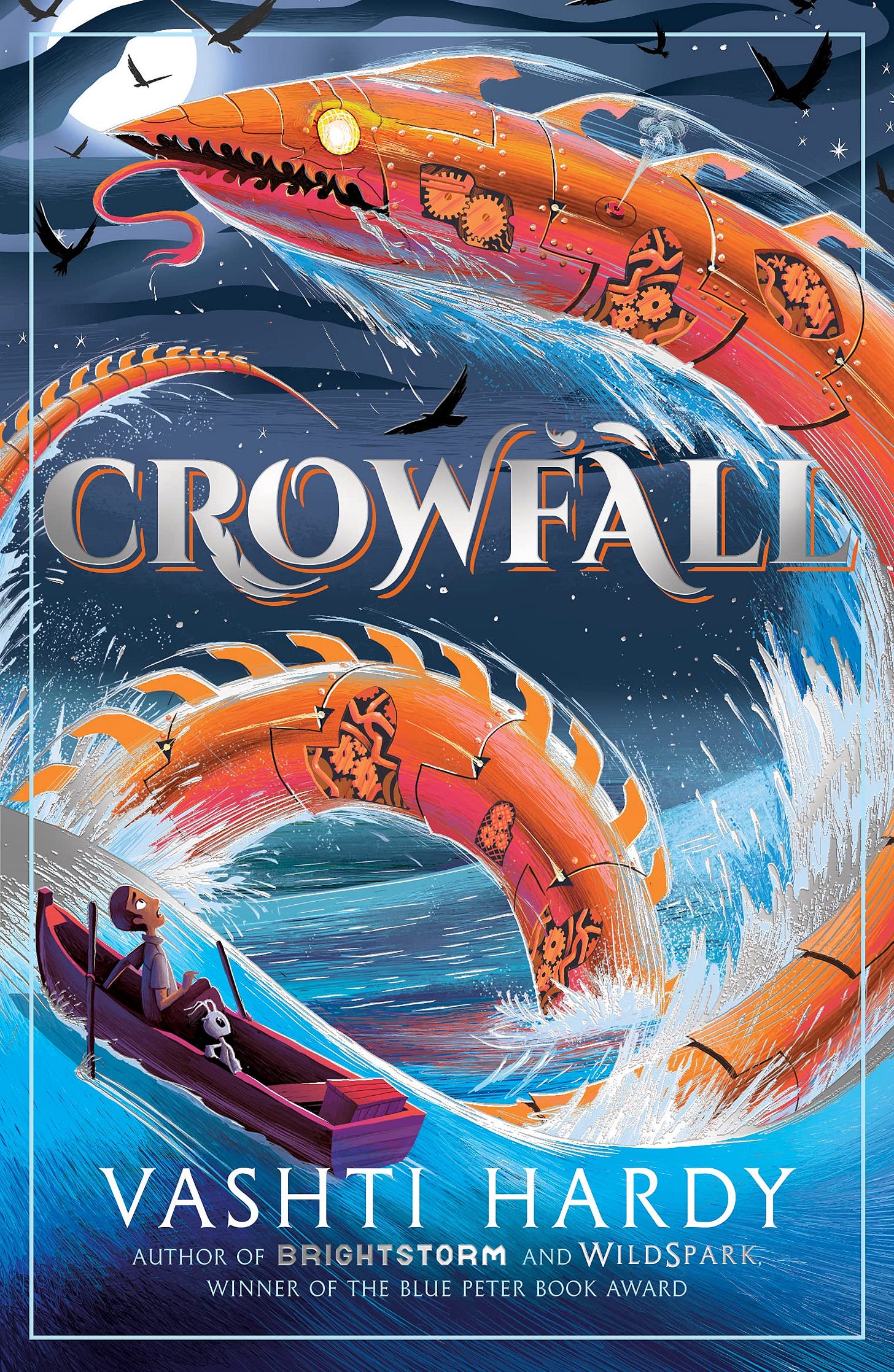 On that note, I'd like to ask you about your gripping Flood World series. I listened to Flood World and Dust Road on audiobook recently and I'm so glad I discovered them and I love Kara and Joe. It seems fitting to ask you where the ecological themes for your books arose from, was it the concept or world first? And I'd also like to ask you why a children's book felt like the right place to tell the story?
Tom: For me, it was definitely the world first. I had this idea of the flooded city, of people living in the upper stories of tower blocks and on walkways linking them together, this huge floating slum. To me that was just an incredibly exciting location for a story – it felt futuristic but grounded, and sort of oddly Dickensian, which I suppose is where the idea of having two street urchins as our heroes came from. Then from there the ideas just accumulated – the Wall around the centre of the city to protect the rich folks inside; the Mariners who live out on the ocean, trying to exist in balance with the 'new reality' of the flooded world but being (sometimes justifiably) dismissed as terrorists and troublemakers by the older order. Joe's dangerous work as a scavenger on the bottom of the sea, and Kara's desire to protect him from the harsh reality of the world in which they live.
I initially didn't know what kind of story I was going to tell – I tried to put some of my ideas into a screenplay, but it wasn't really satisfying. I worried that it might be too complex and sophisticated for a kids book – it was actually reading Philip Reeve's Mortal Engines series that made me realise just how much you could do in childrens' fiction, how sophisticated young readers really are. I could explore environmental themes, ideas of oppression and exploitation, grand moral concepts, without really having to water anything down. I just made sure it was always full of twists and turns and exciting action scenes to keep the reader hooked.
Did you have any major inspirations for Crowfall?
Vashti: That's interesting on the Dickensian aspect, because I had that thought when I was reading FloodWorld, the character of Culpepper definitely gave me excellent Fagin vibes! My major inspiration for the world of Crowfall was the concept of exploring humanity's relationship with nature. The challenge I set myself was to achieve cohesion between that theme, the setting and the character's arc. With the setting, I'd always wanted to explore an island based world in a story, and Crowfall seemed the perfect place for it as it allowed me to develop the contrasting island communities of Ironhold and Natura who approach their relationship with nature in very different ways.
I like the idea of empowering the powerless in my stories, so the protagonist, Orin Crowfall, begins the story feeling he doesn't have any power for change, but as the story unfolds he is the only one who can save his world. He also has a deep connection with nature and an innate need to save things so he felt like the right person for the eco-fable theme. In real life, children are sometimes underestimated in their abilities by adults, but I'm a believer in that just because someone is small, it doesn't mean they can't have a voice and make a big difference.
Are there ways your protagonists Kara and Joe become the change makers in your world? I'd also love to ask you how you go about achieving a cinematic dystopian-like setting in your writing?
Tom: Absolutely, it was always important to me that the readers could see how much Kara and Joe affected things in their world, just like Orin does in Crowfall. So even though the future depicted in FloodWorld is pretty messed up – rising tides, flooded cities, constant conflict – they were able to make a big, positive difference to lots of peoples lives. Perhaps inevitably (and very flatteringly), Kara ended up being compared to Greta Thunberg (blonde, forthright, knows her own mind and speaks it), but the character was formed long before GT came on the scene. And besides, in many ways the book is actually more about inequality and self-empowerment than it is about climate change – after all, in this world the change has already happened, it's about how people live with it and adapt to it rather than how they try to stop it.
As for writing cinematically… thanks! That was always the intention, I'm a huge film nerd (writing about film is my other job), and I always envisioned FloodWorld as a big, blockbuster-y kind of book, with action scenes and giant 'sets' that you could imagine as you read the book. It took a long time to get right: my early drafts were full of way too much detail, I was trying to describe everything so much, thinking that would make it easier for the reader to visualise it. But in fact the opposite is true – if you give the reader just the information they absolutely need and no more, then they fill in the blanks for themselves. So by stripping it back, the world actually became more vivid, not less. It's funny how that works!
But I do think it probably helped that I'd done that extra writing in the longer drafts – the world was very clear in my head. How do you go about visualising the world of your stories? Do you 'explore' your locations through drawing or making notes, or do you just let the world unfold along with the story?
Vashti: I'm quite a visual person when it comes to my world-building so use lots of images to help create the setting in my imagination. I love Pinterest for this, and create boards for all of my stories. Sometimes, if an image captivates me but I don't have the right story for it yet, I save it to an ideas board for later use. It's amazing how a whole story world and theme can be grown from a single image. I also draw maps of my worlds as it helps me bring the geography of the world to life. It may sound peculiar, but it feels as though the very act of drawing a map magically creates the word in a far away galaxy! It also helps me on a practical note of working out the movement of the story and how the characters progress from place to place, how long it takes, what they'll experience, and what's going to get in their way. I also like to make a glossary of place names and terms unique to the world I'm building as on a practical level it helps for consistency as well as making sure the naming matches the vibe of the world atmosphere. Having said that on the pre-planning, I do let the world unfold as I go along too and I love the dance that goes on between planning and spontaneous world details that unfold as you write. While I'm writing I constantly go between my images, maps and notes to adapt and refine them.
Crowfall is standalone (at the moment…) and FloodWorld is part of a series. One of the joys of world-building is knowing you can dive into any number of places with any number of characters to tell a story — will your next book will be a third in the series and what might readers expect from book 3, (without spoilers, of course!), and will book 3 conclude the series? Also, would you like to explore similar themes in other stories? In essence, I'm snooping! Can you give us a hint about what you're working on beyond the Flood World series?
Tom: I'm a big map drawer too! Though my skills as an illustrator are pretty feeble and not suitable for public consumption (that's why I have the amazing Jensine Eckwall to draw my maps). But you're right, it really helps make the world of the story feel concrete, and helps me visualise things much more clearly.
In answer to your question – yes! The third and final book in the trilogy, StormTide, is out now. I won't give away too much, except to say that it's a fittingly epic end to the saga, with apocalyptic threats and giant sea battles and some pretty cool oceanic trench action! It feels great to have brought the series to its conclusion – I'm going to miss the characters, but I'm happy with where they all ended up. Beyond Floodworld I'm working on a number of other projects – a series for younger readers that'll be coming out next year, a book for adults that I'm just in the planning stages of, and a book for the same age group as FloodWorld that's proving a tough nut to crack – but it's an idea I love, so I'll keep at it. Most of my time these days is spent wrangling my new baby, but I'm hoping to find more time to write as the year goes on…
Vashti Hardy is a writer of children's books spending her time between Lancashire and Sussex. She was a primary school teacher for several years, and has a special interest in children's writing, especially free-writing and the use of journals and creating fantasy worlds. Now a successful children's author, Vashti's breathtaking middle grade fantasies are published across the world in several languages. Wildspark won the Blue Peter Book Award 'Best Story' in 2020 and the FCBG Children's Book Awards and Brightstorm was shortlisted for the Waterstones Children's Book Prize, Books are My Bag Awards, among others. Brightstorm was also selected for Independent Booksellers Book of the Season and both Brightstorm and Wildspark were selected as Primary School Book Club Reads.
Tom Huddleston is a writer, musician and film journalist best known for his FLOODWORLD series of futuristic, climate-themed adventure stories. He currently lives in London. Tom is the author of several books for children including instalments in the STAR WARS: ADVENTURES IN WILD SPACE and WARHAMMER ADVENTURES series. Published in 2019 by Nosy Crow Books, his FLOODWORLD trilogy combines thrilling action with themes of ecological disaster and social inequality.
---
Climate Change News
Follow the Climate League members on Twitter
Solarpunk Magazine 2022 Kickstarter
The Solarpunk Future: Five Essential Works of Climate-Forward Fiction
Climate Change Writing Competition [University of Birmingham students]
Writing a love story to Antarctica by Midge Raymond
How to Build a Solarpunk City by Lauren C. Teffeau
Journalism inspiring Fiction by Joanne O'Connell
Rewilding and our connections with the natural world by Nicola Penfold