It's been raining all week here in Houston, which is to say, I haven't been sleeping. For most of my life, I loved the sound of a thunderstorm lulling me to sleep. But after surviving more floods, tropical storms, and hurricanes than I can count on both hands, the sound of thunder now triggers anxiety. I wake in the middle of the night to check the back door, feeling the tiles in the dark with my bare feet to make sure that water isn't slipping inside. If the rain is hammering the roof, I'll crack the front door and peek out at the bayou, two blocks away, to make sure it hasn't escaped its banks.
Houston is one of many Gulf Coast cities already traumatized by climate-changed weather. For me, climate change feels viscerally real, as each summer stretches longer, breaking record after record for killing heat. Hurricanes spin up faster and stronger, so we barely get a break between tracking the storms that might just destroy our lives. For many Gulf Coast residents, climate change isn't some future abstraction, it's the dark water that's already crossed our doorsteps, spilled into our homes, damaging the literal foundations of our lives.
I imagine folks out West go through similar traumas with each wildfire season.
Despite all the devastation Houstonians have already faced, our city and state leaders still largely choose to bury their heads in the sand on climate preparedness. We're coming up on the anniversary of Hurricane Ike this summer—a narrow miss, that storm. If Ike had come ashore just a few dozen miles to the West, a 20-foot storm surge would have come up the Houston Ship Channel, crashing into the largest concentration of petrochemical industry in the country. The resulting human and environmental toll is staggering to consider. And yet thirteen years later, we have yet to build the "Ike Dike" or barrier islands that would protect Houston from a direct hit from a major hurricane. It's also nearly four years since Hurricane Harvey, when two dams west of the city nearly failed, which would have submerged most of the city in a flooding event even more fatal than Hurricane Katrina. Repairs to those dams are yet to be completed. As the most populous Gulf Coast city, at sea level, and with no significant hurricane preparation underway, Houston exists on borrowed time, protected only by magical thinking.
For those of us who are climate realists—and stuck here, due to family, jobs, or economic circumstances—the inaction of our leaders is unbearably frustrating.
That frustration fueled my debut novella, Depart, Depart! I wanted climate-deniers near and far to share the fears that keep me wide-awake on rainy nights. I destroyed Houston in fiction, hoping that my little book might spur someone to join the fight against climate change, and maybe help save our city in the real world.
In Depart, Depart!, Hurricane Martha serves not just as a plot device, but as an antagonist. Tropical storms have names, bodies, and moods. We track their movements, obsess over their behavior, curse them, fear them, and joke at their expense, and they are very much characters in our lives.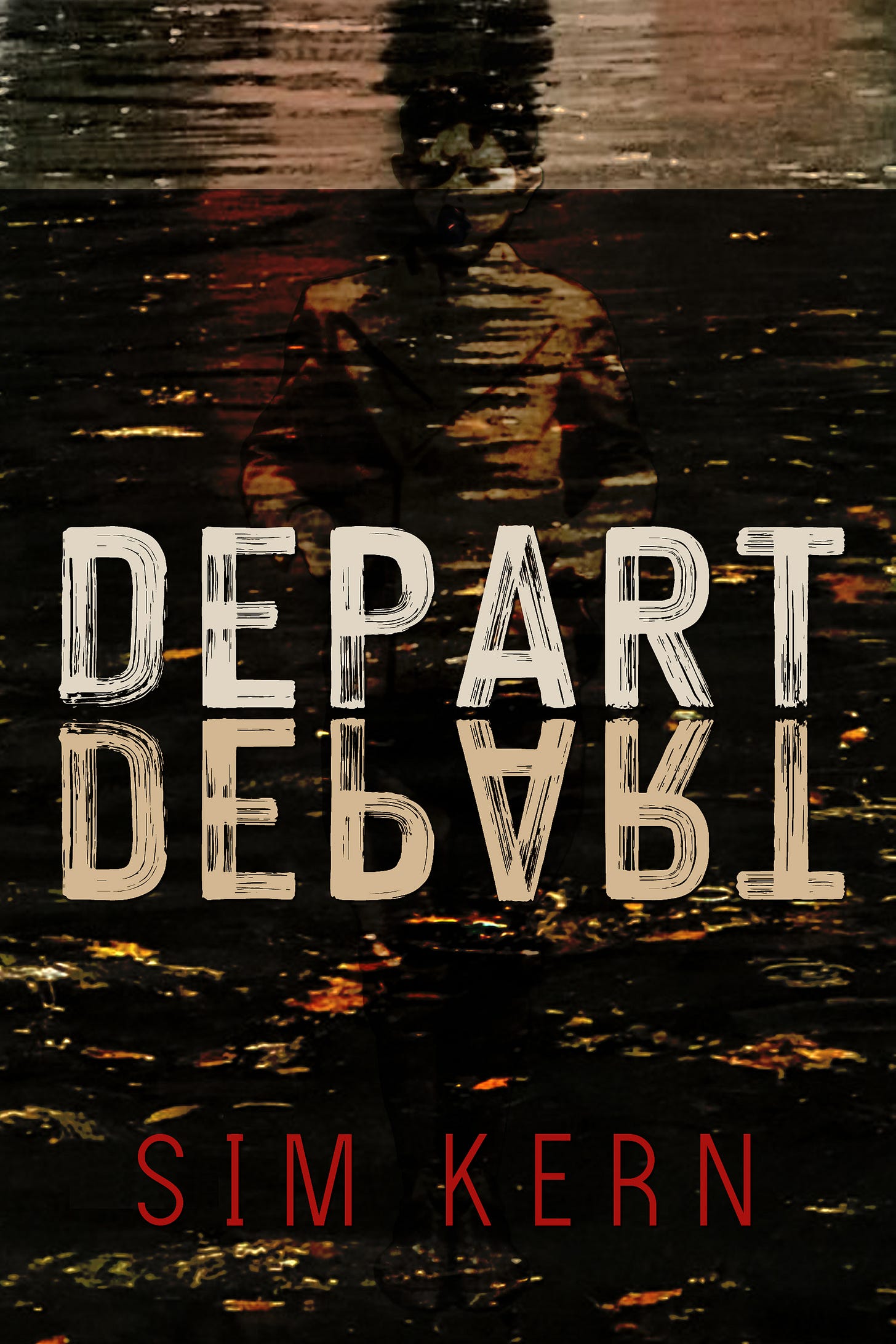 For most of Noah's friends, Martha is an excuse to throw a hurricane party. That's a pretty common response among 20-somethings along the Gulf Coast. But for Noah Mishner, the approaching storm sparks an intergenerational terror, manifesting in cryptic warnings from his ancestor's ghost. During a disaster, trauma tends to get tangled up like that.
As a trans, Jewish man, trying to survive in a basketball arena-turned-climate-shelter, Noah's fears of the storm are quickly overtaken by his fear of his fellow Texans. As the storm dissipates, Hurricane Martha's role as antagonist fades, and the real threat emerges—Noah's neighbors, with all their bigotries, hatreds, and guns. Add an intensifying climate crisis, with wildfires, drought, and food shortages, and violence seems sure to follow. In a corner of the shelter, near the only gender neutral restroom, Noah and a found family of other trans folks try to forge a community that will weather this brewing crisis.
I wish that I could say that the fears that took shape in Depart, Depart! seem unrealistic now, four years after Harvey. But as this Texas legislative session comes to a close, they seem more relevant than ever. Permitless carry passed, so that guns will be more omnipresent and unregulated than ever. Thanks to the incredible efforts of trans activists (many of them children), none of the thirteen bills attacking trans people passed this session. However, criminalizing trans kids remains a top priority of the GOP, as the governor is considering a special session to continue the onslaught. Efforts to reign in petrochemical pollutants failed to get a vote, while the "right" to burn natural gas will be enshrined in law. In the name of "life," the legislature banned abortion past six weeks, the time after which when 90% of abortions in the state occur. And yet no action was taken on climate change, which threatens the very continuation of life on earth.
This agenda doesn't reflect the priorities of most Texans, only of a powerful, vocal minority. For example, only 26% of Texans think permitless gun carry is a good idea, and yet this law will now endanger all our lives. Outrageously gerrymandered districts and racist voting laws disenfranchise millions of Texas voters, particularly in Black and Latine communities. And a new, sweeping election bill is set to make it even harder to vote for the millions of Texans who support things like LGBTQ+ rights, climate action, and sensible gun laws.
So don't get me wrong, I love Houstonians. Like the climate refugees in Depart, Depart!, we're all just trying to survive, keep our families happy, and stay above floodwaters. We're a resilient bunch, as you have to be, living on the Gulf Coast in the 2020's. Hurricanes can be terrifying antagonists. But by a longshot, it's my neighbors—the ones who worship bigotry, guns, and petrochemicals—who scare me the most.
You can learn more about Depart, Depart! here.
Sim Kern is a speculative fiction writer, exploring intersections of climate change, queerness, and social justice. Their quiet horror novella Depart, Depart! was released in September 2020 from Stelliform Press. Sim also has recently published short stories in Metaphorosis, The Colored Lens, and Wizards in Space Magazine. They are represented by Mariah Nichols of the D4EO Literary Agency for their YA novel, Sand and Swarm. Sim attended Oberlin College for a B.A. in English and Creative Writing. Afterwards, they moved to Houston, where they spent ten years teaching English to middle and high schoolers. Following the birth of their kid, they began pursuing a career in writing. They live near the bayou with their husband, toddler, and two very good dogs.
Climate News
Chance of temporarily reaching 1.5C in warming is rising, WMO says [FT]
Goldsmiths Press Accepting Submissions for New SF Imprint
Great Science Share for Schools – resources for educators [University of Manchester]
Meet 13 Asian and Asian Diasporic Nature and Environment Writers [Sierra Club]
ExxonMobil and Chevron suffer shareholder rebellions over climate [The Guardian]
A 'choose your own adventure' based on Annemarie Allan's novel 'Breaker'
Cover reveal for Green Rising by Lauren James (league founder)