During lockdown, I have revised a story-in-progress to take account of our COVID-19 pandemic, and I know I have not been alone in doing so. I have shifted the setting of my novel to a time, post-pandemic, when my characters are resuming their 'normal' lives. The pandemic is still in their thoughts, suppressed for the most part, but breaking through at unexpected moments. It struck me, while making these revisions, that the pandemic and climate catastrophe, despite occurring on different timescales, share the key characteristic of being global emergencies, affecting everyone, wherever we live.
Amitav Ghosh states in The Great Derangement: Climate Change and The Unthinkable that climate change evokes a sense of the uncanny. "No other word comes close to expressing the strangeness of what is unfolding around us." This is exactly how we feel during this pandemic. And in both emergencies, the people worst affected are those with least room for manoeuvre, whose livelihoods are insecure, who cannot spend their way out of a crisis. During today's manifestations of our climate crisis—from wildfires to floods—we have witnessed that many people cannot adapt to a hotter/wetter/stormier world. They cannot buy a property on higher ground, or afford air-conditioning, or legally emigrate to a kinder climate, or… Well, the list is long. Many people will stay put, for a lack of options, and adapt as best they can.
During lockdown, hoping to gain an insight into how writers respond to extraordinary events, I read The Love-charm of Bombs—Lara Feigel's account of writers living in London during the Second World War. She describes the war-time experiences that informed Henry Green's Caught, Graham Greene's The End of the Affair, Elizabeth Bowen's The Heat of the Day. For these authors the cataclysm of war and the blitz took centre stage in these works of fiction, enriched with autobiographical detail. The reader is placed inside the blitz with falling masonry, and incendiary bombs falling in the street.
I also read A Month in the Country by J L Carr, winner of the 1980 Guardian Fiction Prize. This tells the story of a soldier demobbed from the First World War who accepts an art commission to restore a church fresco in rural Yorkshire. The character's wartime experience stays in the background, but it's painfully clear to the reader that he is suffering from shell shock, and his world has changed irrevocably.
So, centre-stage or background? Where should we place climate change when we write fiction?
Both, I would say, can work brilliantly. But it's a choice we make at the outset. I've been writing fiction around the subject of climate change for twenty years. In two of my novels, the climate references sit in the background since the novels are tackling other subjects primarily—feminist themes in one case (Sleeping Embers of an Ordinary Mind), and the role of future reproductive technologies (Dreams Before the Start of Time) in the other. Climate had to enter the mix, I decided, because both novels are set in the near-future. How could I inhabit the future without depicting the now-inevitable environmental and ecological changes? I couldn't, And, more to the point, I would not want to.
By contrast, in my most recent novel, Bridge 108, I imagine a post-Brexit England later in the 21st century, when soaring temperatures and wildfires around the Mediterranean Rim are forcing people to migrate north from southern Europe. This novel is set in the same world as my debut, A Calculated Life, in which the north west of England, known today for its high rainfall and damp climate, has become a region of citrus and olive groves. In Bridge 108, I follow a young climate refugee who leaves Spain, becomes separated from his mother, and is trafficked to England where he works as a modern-day slave. Climate catastrophe is therefore the motor for this novel, but the wildfires and drought happen off-stage, visited in flashbacks.
I chose to focus the storylines in Bridge 108 on how state institutions and unscrupulous citizens are exploiting the refugees, and how the climate catastrophe affects different strata in society. Some people are coping just fine, whereas others at the bottom of the economic pile are struggling. And in order to portray these diverse experiences, I opted for a mosaic form, with multiple voices, which conveys the notion that individuals can be both victim and oppressor.
I am fascinated by the range of literary approaches to our shifting climate. An early classic, which I read many years ago, is J G Ballard's The Drowned World, which depicts a climate endgame. Sea levels have risen, London has drowned. More recent examples of similarly dystopian endgames include Kim Stanley Robinson's New York 2140, which describes the survival spirit of people living in a part-submerged Manhattan. Taking a different tack in The Ministry for the Future, Robinson opens the novel with a visceral depiction of a great Indian heat wave in which 20 million people die. What follows is the story of a new United Nations organisation, The Ministry for the Future, which fights on multiple fronts to reduce carbon emissions.
Climate change takes centre stage in these novels, as it does in John Lanchester's The Wall, Vicki Jarrett's Always North, Cynan Jones' Stillicide and Omar El Akkad's American War, to name a few.
However, I also find myself drawn to novels that take a more oblique approach. The Inland Sea (2020) by Madeleine Watts is set in 2013 and draws a parallel between the protagonist's self-destructive tendencies and our self destruction as a species regarding climate catastrophe. The Last Migration (2021) by Charlotte McConaghy merges eco-fiction with a psychological mystery as the protagonist tracks the migration of Arctic terns, paralleled by her own tendency to take flight, to move on, an instinct to leave people behind. And in Ghost Species by James Bradley, we encounter a remote and secretive research centre where scientists are reverse-engineering and resurrecting extinct species, including a Neanderthal child, against a backdrop of encroaching wildfires.
And perhaps a less obvious example of climate change fiction is Sarah Moss's Summerwater set in a Scottish holiday park, with rain lashing throughout the novel, with the suggestion that even for Scotland the rain is worse than it ought to be.
These novels add to a growing body of fiction that relates to climate—from Barbara Kingsolver's Flight Behaviour, and Richard Powers' The Overstory, Amitav Ghosh's Gun Island, and Helen Marshall's The Migration (which brings together both climate change and a pandemic).
There's no right or wrong here. Each writer assesses their writing strengths and deploys them to best use, as we each embrace the responsibility of addressing this existential threat in our own small way, while also attempting to engage and entertain the reader.
You can find out more about Bridge 108 here.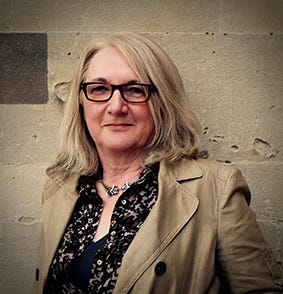 Anne Charnock is the author of Dreams Before the Start of Time, winner of the 2018 Arthur C. Clarke Award. Her debut novel, A Calculated Life, was a finalist for the 2013 Philip K. Dick Award and the 2013 Kitschies Golden Tentacle award. The Guardian featured Sleeping Embers of an Ordinary Mind in "Best Science Fiction and Fantasy Books of 2015." Anne's novella, The Enclave, won the 2017 British Science Fiction Association Award for Short Fiction. And her latest novel is Bridge 108 (2020). Anne's writing career began in journalism, and her articles appeared in The Guardian, New Scientist, International Herald Tribune and Geographical. She studied environmental sciences at the University of East Anglia, and holds an MA in fine art from The Manchester School of Art. She was active for over ten years in the Ashton Hayes Going Carbon Neutral Project in Cheshire, before moving to the Isle of Bute in Scotland.