Anthea Simmons talks about her new release Burning Sunlight, a climate change YA novel out this month with Anderson Press about teenage activists.
How do themes of the environment play into your plot and the lives of your protagonists?
The environment is absolutely front and centre in Burning Sunlight. It is the issue which brings Zaynab and Lucas together, causes tensions and conflict between Zaynab and her father and Zaynab and her head teacher. It drives the entire plot and the excitement and danger that goes with it.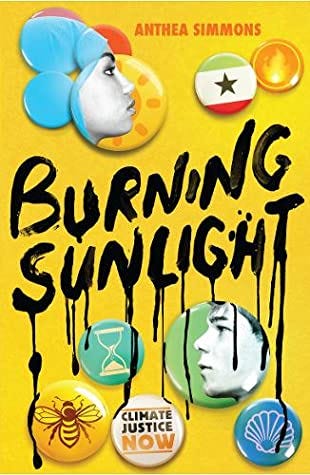 When did you get involved in climate-activism, and when did you decide to incorporate it into fiction?

I've been involved in campaigning for access to opportunity for minority groups and, over the last four years, helping to lead a large grassroots group attempting to stop Brexit through democratic means.
I could see that Brexit was a licence to follow the Trump model and start trashing environmental protections and food standards and reneging on emission reduction promises, so in that respect I've been involved in climate-activism indirectly.
I attended one of the big Climate Strike demos in Exeter and saw the army of passionate, committed kids with their heartfelt, hard-hitting banners and placards. I could identify with their single-mindedness. I am a pretty driven, outspoken and impatient person and don't believe in sitting on the sidelines. Apathy and passivity are the enemies of truth and democracy. I don't ever want to feel that I didn't try everything, do everything I reasonably could. That's how it is for Greta and the other climate champions and I, in my smaller way, am like them when it comes to campaigning.
I decided to write a story about young activists after that march and I chose to have my heroine, Zaynab, come from a country that is already being hit hard by climate change and the impact of what we do in the West.
Why did you choose to write about climate change? What other themes intersect with climate-change within your book?
When you hear young people say that they find it hard to plan their futures when they do not think the planet can survive or that they would not dream of having kids of their own because Earth is trashed, you have to speak out and to find a way to celebrate and champion the young people who are trying to make a difference.
By having Zaynab come from Somaliland, I was able to tackle some other issues that matter to me, too. Racism, for example. Do you remember that photo of a group of young climate change activists taken at Davos and cropped by the newspapers to exclude Ugandan activist Vanessa Nakate, leaving only the Europeans? That horrified me, so Zaynab is a young person of colour and a Muslim and from a part of the world people know very little about. She also represents women and children who suffer disproportionately from the impact of the climate crisis.
The novel also deals with grief, bereavement and the challenges of leadership, of motivating others.
What do you hope readers walk away with after reading your book, especially in regards to climate change?
I hope it makes them want to do something or to do more. I hope it helps them to put the need for action, however small, on the agenda in their homes and schools and with their friends. Activism can be very lonely, because not everyone has the guts or the energy or is prepared to commit to the same degree. Your own commitment can make other people feel as though they are failing, or just put them off. It's a lesson Zaynab has to learn. Not everyone can go at her pace or be as brave or speak in public or inspire others as she does, but everyone who wants to can make a difference. Lucas, for example, is quiet and shy, but he grows in confidence and also acts as a check on Zaynab when her zeal could backfire.
It's not all deadly serious, though! They do have a laugh, too! And, without spoiling the plot, they have a pretty hairy time of it once they decide to thwart a greenwashing scandal. I found it exciting to write, so I hope people find it exciting to read!
What are your hopes from other climate-fiction books that appear in literature?
That more kids and young people are engaged and mobilised in the campaign and that their pressure is felt by parents and older generations and that pressure builds so that politicians and corporations deliver on their promises. There is no planet B. This is it. Our house is on fire and we are running out of time.
Anthea Simmons lives in Devon with her polydactyl cat, Caramac. After a successful career in the City and a spell of teaching, she finally knuckled down to write at the insistence of her son, Henry. She is the author of Share, The Best Best Baby, I'm Big Now, Lightning Mary and Burning Sunlight. She is editor in chief for online citizen journalism paper, West Country Bylines, and campaigns on a range of issues including electoral reform and rejoining the EU.
---
Climate Change in the News
Climate Change and Fiction Zoom panel with League members Julie Carrick Dalton and Angie Hockman – 6th May with Books and Books @ the Studios
Jury acquits Extinction Rebellion protesters despite 'no defence in law' [The Guardian] – Six Extinction Rebellion protesters have been cleared of causing criminal damage to Shell's London headquarters despite the judge directing jurors that they had no defence in law, and even if they thought the protesters were "morally justified", it did not provide them with a lawful excuse to commit criminal damage. But the jury of seven women and five men took seven hours and four minutes to acquit them of both charges. Before reaching their verdicts, the jury had asked to see a copy of the oath they took when they were sworn in. Thanking jurors for their "care and attention", the judge said: "This has been an unusual case."
MI6 'green spying' on biggest polluters to ensure nations keep climate change promises [Sky News]
Wealthy nations 'failing to help developing world tackle climate crisis' [The Guardian]
Climate change: Net-zero cannot be achieved by planting a few trees or keeping lights switched off a bit more [Sky News]