Tell us about your new book.
How to Save the World with a Chicken and an Egg is narrated by Ivy Pink Floyd, animal communicator, and Nathaniel Breakwell, an animal- and routine-loving boy with Asperger's who has been brought up by his grandmother. After his grandmother's death, Nathaniel goes to stay in Southwold, Suffolk, with his eccentric, confusing mother, and meets the equally odd Ivy, a fostered girl with a 'difficult past', chicken friend wedged under her arm and a dog daddy who follows her everywhere. Both Nathaniel and Ivy are committed to animals and saving the world, but it's hard to know what to do when the world is huge and you're not even a teenager yet, and neither is great at making friends (human ones, at least). But when the impossible possible happens one night on the beach (let's just say it involves a leatherback turtle and a lot of rumpus), they learn two important lessons: one, saving the world means doing what you can when you can, and two, none of us can do it on our own.
How does climate change play into the plot?
It's central to the plot: both Ivy and Nathaniel want to save the planet, but they do it different ways (neither of which is very successful). Ivy talks to creatures and tries to help them, although their human owners are not very compliant or believing, and she mainly fails. Nathaniel tells everyone he meets fascinating facts, but this seems to drive them away instead of persuading them to change their habits or be his friend. The 'impossible possible' is actually impossible at the moment but with sea temperatures rising, perhaps one day it could actually be possible.
What kind of research did you do when writing it?
I read books on animals and animal behaviour; I read about and watched documentaries about animal communicators; I read books by ecologists and emailed turtle professors and experts about leatherback eggs, and their transportation, incubation and hatching. I contacted Friends of the Earth, Greenpeace, the Marine Conservation Society and the Leatherback Trust (only the first of those organisations was helpful!); I researched fostering, Asperger's, and the Seri tribe in Mexico, and returned to Southwold to ride around on a bike and see where there were and weren't lampposts, and what views you could see from e.g. Gun Hill, which meant walking around near people's houses and taking photos like a suspicious stalker. I also did lots of internet searches for animal facts, mucus and saliva – if you'd seen any of my searches at that time, you'd have been very concerned about me.
What approach did you take to talking about complicated topics, either political or scientific, for younger readers?
I usually consider the benefits and drawbacks of being optimistic or pessimistic about a subject and how this might affect young readers. David Wallace-Wells begins his book, 'The Uninhabitable Earth' with the line, 'It is worse, much worse, than you think.' I'm not sure I could start with a similar message for kids.
If we think it's too late to change our habits and create positive climate change, we won't be motivated to do anything, but if we think it's all fine and dandy, we won't be motivated to make any changes or take action. I wanted kids to feel that although they don't have jeeps or skills, they can help, and they can make a difference. With first person narrators, the political and scientific topics are limited to what the narrator might know, being an eleven or twelve-year-old child, so that frames how you present that information and what you include. Ivy doesn't understand the scientific jargon the scientists use so she paraphrases it; Nathaniel would understand it but children only have the information taught to or discussed with them and often not the whole comprehensive picture, so this changes how you write it. I also wanted to highlight autism, different types of families, and feeling abandoned by a parent, and these are also serious subjects. I tend to use humour a lot to balance it out.
What are some of your favourite books about climate change? (fictional or non-fiction!)
I love Carl Safina's books: he's an ecologist and scientist and is a poetic, insightful writer who shares his deep love for the natural world in every haunting and beautiful sentence he writes. The following are less about climate change but 'Are We Smart Enough to Know How Smart Animals Are?' by Frans de Waal; 'The Unexpected Truth about Animals' by Lucy Cooke and 'Other Minds: The Octopus, the Sea, and the Deep Origins of Consciousness' by Peter Godfrey-Smith are all great reads.
Can you remember when your journey with environmental activism started?
I can't say it's a 'journey' or when it might have started because it's just always been important to me. I've always deeply loved and felt profoundly connected to this planet and its creatures, and all of my actions are related to my experience of being here and sharing life on Earth with the people and creatures that are also here, have been here before me, and will be here after I'm gone. I think if you love the Earth, your whole life is – or should be – an act of activism. It's just so hard in the modern world to walk the walk. I get on planes and I buy veg in plastic because it's hard not to. I drive if I'm really tired and I know I could do more but I'm also running a home and a family, and two careers, one of which is ridiculously demanding. I'm not perfect – none of us is – but I really do care.
Why is it so important for you personally to see the environment discussed in fiction?
This is the biggest problem we face. I tend to write about what bothers me, and this bothers me hugely – I can't not write about it. I know it also bothers other people, and kids have growing anxiety about climate change and what they're inheriting, so it needs to be addressed and I feel compelled to offer them hope, even if it feels (and maybe is) hopeless.
Can you share a quotation from the book that you hope will resonate with readers?
This part can be found towards the end of the novel, when Nathaniel is talking to a scientist called Irina about some baby turtles that have just hatched and swum out to sea:
'It's too late, isn't it?' I asked quietly.

She paused, checking what I meant. 'For them?'

'For the planet.'

….

She paused, then added, 'Those tiny hatchlings have so little chance, but they do everything they can to survive anyway. And that's what we need to do. We can't lose hope. The odds against us are enormous, but we have to do everything we can. And keep doing it. You understand me, right?'
You can find out more about How to Save the World with a Chicken and an Egg here.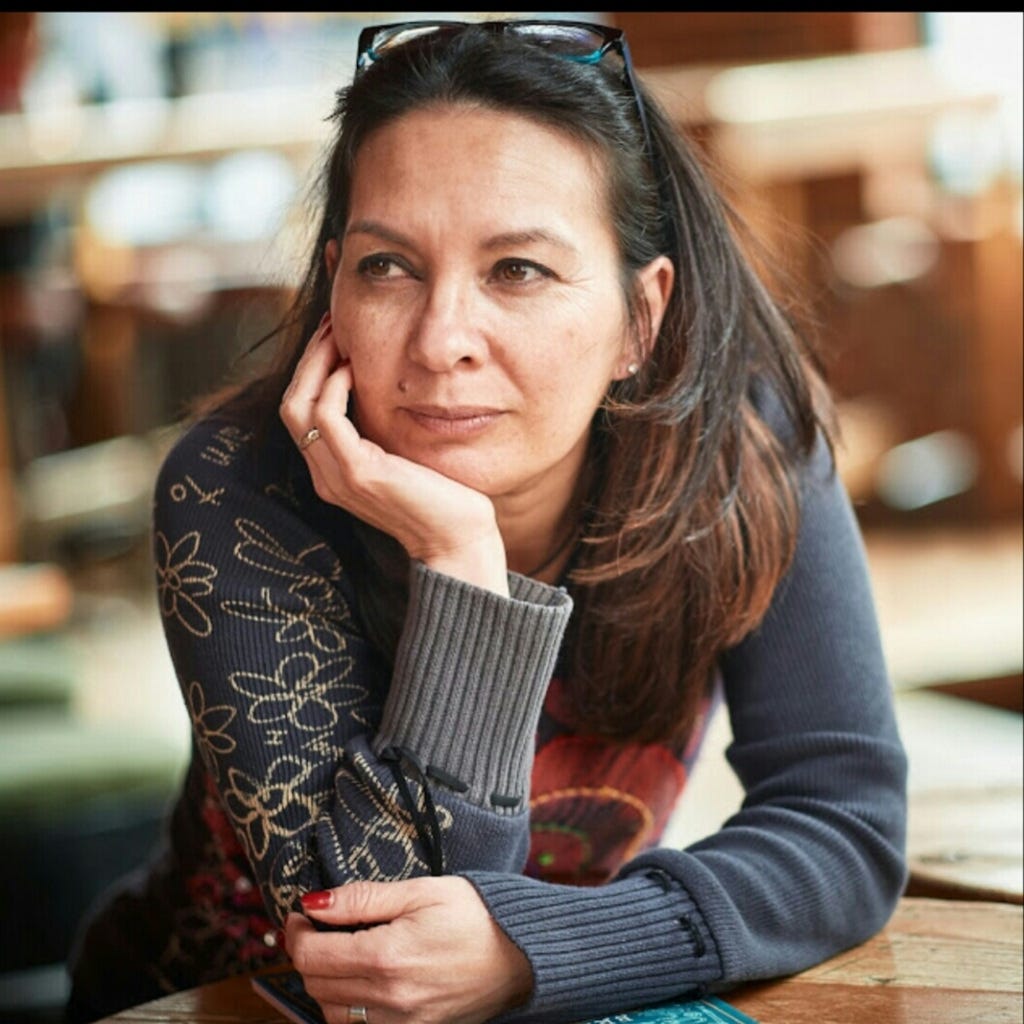 Emma Shevah is half Thai and half Irish, and was born and raised in London. She holds a BA Honours in English and Philosophy from the University of Nottingham and an MA with Distinction in Creative and Professional Writing from Brunel. She is the author of Hello Baby Mo!, an early reader published by Bloomsbury, and four Middle Grade novels published by Chicken House: Dream on Amber (2014 – winner of the Odyssey Award), Dara Palmer's Major Drama (2016 – optioned by CBBC), What Lexie Did (UK)/Lexie's Little Lie (US) 2018 and How to Save the World with a Chicken and an Egg (2021). She currently lives in Brighton with 50% of her four children and is Head of Year 13 at Roedean.