Chitra Soundar interviews Gill Lewis about her latest book Song of the River ( illustrated by Zanna Goldhawk and published by Barrington Stoke), that explores violent storms and flooding while also discussing her picture book Pattan's Pumpkin, which is an ancient folktale from India, which has the same themes.
Chitra: I really enjoyed reading Song of the River. I was quite impressed with the way you have seamlessly woven so many themes – from moving from the city, to a parent's death, the joys of following one's dream amongst everyday concerns of riding a bike in the city and the skill of photography as a way to change perspectives. Amazing! Well done.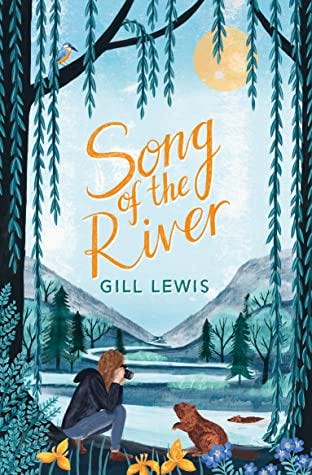 Gill: Thank you, Chitra, and thank you for the signed copy of Pattan's Pumpkin, a retelling of the story told by the Irular tribe who live in the Palakkad district of Kerala in southern India – it is a beautiful book I will treasure.
I love hearing folk tales from other lands and cultures – and seeing the similarities and differences between them. The flood tale is a common theme across so many cultures.
Your retelling of the story is so gently told, with Pattan portrayed as a farmer who cares deeply for his family, his farm animals, the wildlife and for the land he is responsible for. There is much to be gained for us all from this story. The vibrant illustrations by Frané Lessac perfectly match the text.
CS: Thank you Gill, that's so kind. As I was reading Song of the River, I wondered about many things about the writing process. Was there a reason why you wanted Cari and her mum to be from outside the community in which the story was set? Did you wrestle with giving her a lot of new things to deal with, while also dealing with grief?
GL: I wanted the story to explore loss, grief and recovery, both for Cari and for the landscape, and to use the river to emulate Cari's emotions. Cari's father has recently died, and she is going through stages of grief; shock, denial, anger, acceptance and recovery. The landscape too has lost much over the centuries due to mis-management by man. The continual loss of biodiversity and wild places causes a solastalgia within many of us, a grief at environmental destruction. Not only have we lost landscapes, but we have lost soundscapes; we have lost birdsong, the sound of insects and amphibians. The river rages down the valley, and Cari rages deep inside as well. I wanted the restoration of the landscape via the return of the beaver to reflect Cari's recovery too. Beavers are landscape engineers, creating ponds and wetlands and allowing the recovery of many species of flora and fauna. Cari's recovery reflects that of the landscape.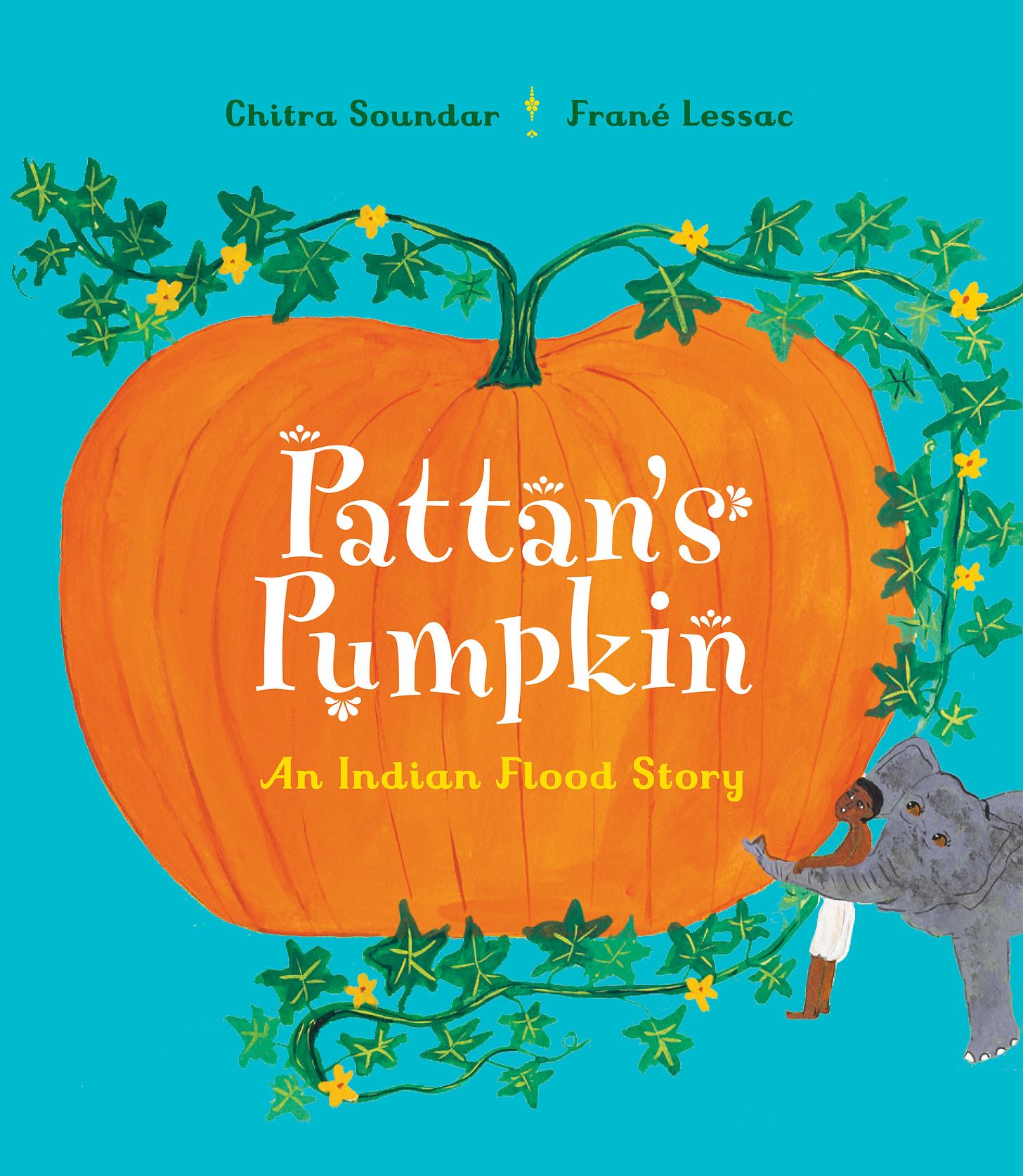 I felt that there were similarities in the threads of environmental protection in both our stories. Pattan's Pumpkin begins where Pattan discovers 'an ailing plant' in the valley and decides to look after it. He nurtures the plant and it, in turn, provides protection for him, his family, farm animals, wildlife and harvested plants. The ending is particularly beautiful, and without giving too much away, shows Pattan's gratitude and respect for the pumpkin. But now, in a time where people across the globe are becoming more urbanised, we are losing connection with the earth that sustains us. And perhaps the biggest flood story of all is unfolding right now, with the threat of climate change; increased rainfall, stronger storms and rising sea levels. It will affect us all across the world.
What importance do you think folk stories have to ensure we reconnect with, and protect this planet? And what can we learn from folk stories to help mitigate the effects of climate change? And why do you think it's important for us to hear stories from other cultures and countries?
CS: Folktales gives us a way into today's dilemma through yesterday's tragedies. We reflect on the stories, as we tell them and realise much of what is in the story is playing out in front of us. I've visited many classrooms where the children are reading this story and finding out about floods in their communities and in India. By telling the story each time, we hope to evoke a sense of connection with the past and with the present. It's a cautionary tale too like many folktales the purpose was to share the wisdom of those experiences with the future generations.
In Song of the River, there is a distinct and stark difference between facing a deluge of rain in a tower block in a city, watching it as it slashes the window panes to being next to a bulging river. You've very effectively shown us how scared Cari and her mum would have been when the rain gets bigger and the river runs amok, washing away everything in its path. As a child, I've been in flooded homes, and even recently as last year when I spent time with my parents, all my things started to float as the rain turned the streets into a river, which is perhaps the reason I'm fascinated by flood stories. Where did you draw inspiration for this vivid portrayal? What's your relationship with the merciless side of nature – where it doesn't stop for others?
GL: I'm fortunate enough only to have been caught in one scary flood but it did influence the telling of this story. I was camping in a river valley in France and there was a surge in the river after heavy rains and the campsite was deluged. There was much panic as the water levels rose very, very quickly and in the dark it was impossible to know if we were heading towards or away from the deep water. I have a huge respect for the power nature. I live by the sea and am aware of storms and strong tidal currents. With climate change, the force of nature is going to become even more powerful, and we have a responsibility to try to slow the effects of climate change.
It's interesting to hear you are fascinated by flood stories from your own experiences. The theme of a large destructive flood is a common thread through folktales in many cultures. The ones I have been most familiar with are Noah's Ark and the Welsh legend of Cantre'r Gwaelod. Why do you think flood stories have been told in so many variations across so many countries and cultures, and do you think there is a central common message?
CS: Every culture has many flood tales told, passed down orally through generations. I'm sure there was a mighty big flood that devastated human civilisations. There are a number of flood tales in South Asia and South East Asia, that document a very real geographic catastrophe at a certain time. In a way, by telling flood stories today and by retelling the stories of the past, we are carrying on the traditions of our ancestors, don't you think?
In Song of the River, I love the way classroom projects and the solution to the village's problem come together. I like the link when the owner of Beverley Farms looks at the Borneo example vs the Beaver one and decides she can do something right here, right now. How important do you think community action, engagement and coming together in our own small corners of the world are? How do we create more such action?
GL: I think community engagement is vital because it can be part of a groundswell of activism to bring about change. When people come together to protect the environment in their local area, be it demanding clean rivers, stopping tree felling etc, it can empower communities and make a real difference to local and government policy. I don't think we will change the world by stopping using plastic straws (though it's important to do so) but we will change the world through helping to change the laws and policies to protect this planet.
I also think that stories are important because they engage and educate people. I was interested to read that you were born in Chennai, India, and have been telling stories since your days in primary school! Were you surrounded by books and oral storytelling when you were growing up? And who were the people in your life that had most influence to encourage your own love of storytelling? I also read with interest that you often go to schools to tell stories. Oral storytelling seems a lost art and certainly doesn't appear to be on the curriculum in schools. What benefit does oral storytelling have, and should we be encouraging children to try it for themselves?
CS: It's so true that in the current political climate across the world, communities have to come together to fight for what's important to us. Stories – whether folktales or contemporary real-life accounts break down barriers and bring us together. It is a way of collective imagination when everyone's hearing the same story and imagining it in their own way in their minds.
I didn't grow up with much books. The nearest library was 10 miles away and we couldn't afford to buy books. My mum would take me on the bus every month or so to get books from the library. But oral storytelling and narrative art was always part of our lives. My dad's mum, my grandmother told us stories from the epics and folktales almost every day. It was almost a way of life. My mum improvised plays that we performed and those who know me well know that I can never answer a question without a story attached to it.
Oral storytelling is thriving in the UK and in India, luckily. I love telling stories to children and adults and tell both stories from my own books and also make up stories with the collective imagination of the children. It's a special experience. I always request teachers to have an oral storytelling assembly and in many cases, when we write stories in workshops, I invite the children to come and tell it to their class. It's a special experience when they realise they have an audience and they can read or tell the story they just made up.
In your book, you have introduced photography as a way of expression. I really loved the photography being part of the inspiration – the different perspective of looking at things, and the photos becoming a source of income, a symbol of change. Are you interested in photography, yourself? Do you think such hobbies can inspire our readers to find different ways to see the world and also engage with it?
GL: Many of the arts allow us to focus on the world a different way and step out of our busy lives for a moment. I love drawing and painting because it allows us to examine and observe form and colour and our place within the world. Our education system is too often driven by data and targets, but the arts make an impression on us for life and their effect on our lives cannot be truly measured.
I love Frané Lessac's vibrant illustrations and lots of the lovely details in Pattan's Pumpkin. Did you have any discussions with the illustrator about the style and the colours, or did Frané have free rein to interpret the story?
CS: Frané had access to all my research and she did her own independent research about the geography of the story and the tribe itself. I got to see her storyboard and her roughs. Alongside Frané, the publisher and the designer, we just made sure it was authentically told. Frané and I discussed this in this interview too.
And as we come to the end of this delightful conversation, I have to ask about a topic close to every reader's heart perhaps – cakes! Cari's mum loves baking. Do you like baking too? What's your favourite cake to bake and the one you think is a real challenge? Will you expect your readers to bake the chocolate log beaver cake?
GL: I love the Great British Bakeoff, but sadly I am not a great cook. The only cakes I can make successfully are welsh cakes, but I use my father's secret recipe and am sworn to secrecy. But I do love eating cakes and recommend to everyone especially in the company of a good book.
And Chitra, I hear you love cooking too. Do you have any pumpkin inspired recipes?
CS: Of course, I love cooking. In the interest of keeping the topic in the sweet spot, here is a pumpkin halwa recipe you can download.
It was a pleasure talking to you about Song of the River and Pattan's Pumpkin, Gill. Let's hope caring communities will look after our ailing planet.
Find out more about the Cornwall Beaver Project.
Find out more about the UNESCO protected biosphere, the Sahayadri Mountains, where Pattan's Pumpkin is set here.
Gill Lewis is a multi-award-winning children's author, vet and wildlife enthusiast. She has been fascinated with animals as far as she can remember. She lives in West Wales with her family and their collection of pets including dogs, chickens and a rescued Shetland pony. She writes books that celebrate the wonders of the natural world and raise awareness of the threats facing this planet. Song of the River is her latest book. Find out more at http://www.gilllewis.com/web/ .
Chitra Soundar is an internationally published, award-winning author of over 60 books for children. Her books are often set in India or Indian families. She currently lives in London where she spends her free time reading, cooking, and taking photos of her neighbourhood. Find out more at www.chitrasoundar.com and follow her on twitter @csoundar.
---
Solutions Spotlight
In this issue's extract from a book featuring a climate solution, April Doyle shares an extract from Hive, set in a future where pollinators have all but died out and colonies of nanodrones have been developed as a way to mechanically pollinate crops. In this scene, the scientists are testing the nanodrones outside the lab in an orchard…
'Let's do this,' said Scott. 'Launching Colony One.' He placed the lead drone on the ground and stepped back.

This was the moment. Jed and Victor stopped talking and came closer. Emily put her hands to her mouth. Annie crossed her fingers behind her back.

Silence.

Nobody moved.

The lead drone twitched and rose into the air with a barely audible hum. A second later, out of the crates, the rest of the swarm began to climb. The white noise of the propellers drowned out every other sound as they ascended into the air, each one maintaining a perfectly safe distance from the rest, like a murmuration of starlings on the wing. And then, following the lead drone, they moved together across the short distance to the orchards.

Scott's mouth worked in concentration as he sought to keep an eye on the lead. One of his final tweaks had been to change the colour of the lead drone completely, abandoning the red dot on its upper surface, making the whole thing scarlet so that it stood out from its dark grey counterparts. He walked beneath the swarm, over the tarmac, onto the grass, and guided the lead down towards one of the lower blossoms so that he could more easily monitor its connection with the bloom. He held his breath as the drone made contact. A second later, he watched the other drones fan out over the trees in a perfectly coordinated swathe, all of them coming in to land on their own flowers.

'They're doing it,' squeaked Emily.

'Not yet, not yet,' said Annie. She held out her hand. 'Wait for the next bit.' This was the crucial moment. Would the lead drone take off before all the others had finished pollinating their flowers? Would the whole swarm be able to move independently from that moment on?

The answer to both questions was yes. The lead drone rose from its flower and took off in search of another one while all around it drones were still landing. Soon after that, Annie watched as other drones took off in their own time.

Scott lifted his hand from the controller. 'It works,' he shouted. 'It works!'
The Bumblebee Conservation Trust works to increase the number and distribution of bumblebees. See the RHS's tips for making a more bug-friendly garden.