Author of the historical fantasyWindsmith Kevan Manwaring and April Doyle, author of adult dystopia Hive, discuss their writing.
Kevan: I have just finished reading your book, Hive, which I really enjoyed. For a near-future dystopia it has a refreshingly life-affirming quality to it (which I think is essential if we are to avoid climate paralysis and doomism). It has both a sweetness and an edge, and reminds me of the Welsh saying: being in love is like licking honey from a thorn. So, what inspired you to write this labour of love?
April: Thanks for reading – I'm so glad you enjoyed it! It's good to hear that the story didn't feel overwhelmingly dark – this is a subject which is terrifying to think about in its entirety and I took the decision when I was writing to hint at the monster rather than look it straight in the eye. That would have been a very different book. In the end I wanted a story of hope.
I think the idea for Hive was probably brewing for years before I started to write it. I've always been interested in the natural world, and it's a big part of my writing (as a side note I think that since the first Lockdown, like a lot of us, noticing small details on my daily walks has made me even more tuned in). Climate change has been casting a shadow for a long time now. But the subject of pollinator decline is something that I've become more aware of in recent years. The catalyst for the story came in 2018 during a horrible period of insomnia. After sleepless nights I was usually wide awake for Farming Today on Radio Four, listening to report after report about colony collapse, diseases in beehives, the deleterious effect of neonicotinoids on pollinators… Then, unexpectedly, Hive dropped into my head early one morning and I had to write as fast as I could so as not to lose any of it – which isn't the way it usually works with my writing!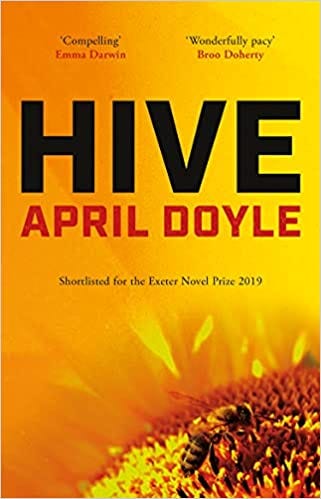 How about you? I've enjoyed reading Windsmith and I understand that it's part of a much larger story world. I'd love to know more about what inspired The Windsmith Elegy.
KM: It's complicated, as they say, but there are two main strands. Firstly, its prequel, The Long Woman, was started in 2002 when the world was still reeling from the impact of 9/11 (in many ways we still are, but then it was at its most raw). It felt like we were collectively going through the stages of grief – many were paralysed by shock or denial, or full of rage. With war imminent it occurred to me that we were going through something similar to the early 20th Century. Way before the First World War Centenary events started to kick off I saw resonant parallels. The massive traumatic event of war led to a huge loss of life (made even more catastrophic by the devastation of the Spanish Flu in 1919) and hard times – but this created the Roaring Twenties, where those with the liberty to sought consolation in hedonism and spiritualism.
Parallel to this was the fight for Women's Suffrage. Yet all this was too massive (for me) to fit into a single novel – so I decided to chart the impact of one death upon one life. Enter my heroine, Maud Kerne, who lost her husband in the First World War. Nearly a decade on, she cannot accept he is never coming back, and is frozen in her grief: a life in stasis. I knew people like this and wanted to understand what that was like, and critically, imagine a way out of that: a light at the end of the tunnel: an escape hatch back into life.
I hadn't planned to write about a forty-something widow in the early Twenties – it was initially going to focus on her husband, Isambard Kerne, a surveyor for the GWR and observer for the Royal Flying Corps obsessed with ley lines – but Maud took over the story. 'The Long Man' (my working title) became The Long Woman – and it became a narrative about those left behind, recovery, and finding one's own 'ley' (voice and path) to live by. Set in late 1922 and 1923, it feels eerily resonant with the current situation in Ukraine, which is causing so much unspeakable suffering. War sadly never seems to go out of 'fashion'.
Halfway through writing The Long Woman I had a flash, a download, of the five volumes I wanted to write – following Isambard into what I call the Afterlands (in the novels).
Ten years and half a million words later, I completed The Windsmith Elegy – and Windsmith, the second in the series, fully establishes the Secondary World in which Isambard Kerne finds himself, having crossed through an Angel Gate in the opening battle of the First World War. In this and subsequent novels I drew upon my long-term interest in myth, legends, and folklore – but most of all my deep knowledge of the Bardic Tradition (I worked on The Bardic Handbook around the same time, and it was published in the same year as Windsmith, 2006, from Gothic Image).
I wanted to ground my fantasy world in something solid – and so I drew upon my fascination with prehistory, with the ancient, sacred sites I like to visit (Stonehenge, Avebury, Carnac in Brittany etc) and on Celtic Iron Age culture. My magical system draws upon the Ogham alphabet, which the druids used. But most of all, the whole series brings to life the Bardic Mysteries – 'Windsmith' is my neologism for a Bard and is a magician of the air who can conjure the winds with their words of power. As a writer with a long interest in the spoken word (storytelling; poetry) I have a deep fascination with the power of language. As Maud find her own voice in The Long Woman, so Isambard learns to become a Windsmith in the later novels: both become empowered through language, but in different ways.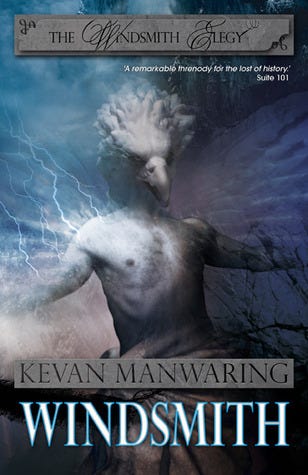 So, a long answer to your question! I did say it was complicated. Novels are seldom inspired by one single thing. Place was such an important inspiration and influence for me in writing the novels (e.g. I walked the Ridgeway – the 'oldest road in Europe' – as part of my research); so I wanted to ask you about that in your novel, which has a strong sense of regionality to it, of characters moving through a landscape, and the importance of one's 'terroir'. So, can you tell us about this? Were there particular places that inspired you? Did you do any field research? And how important is setting for you in a novel?
AD: Place is hugely important to me when I'm writing. As important as any of the characters, maybe even more so. I'm really interested to find out that you walked the Ridgeway – I grew up near there and did lots of walks along various sections of the Ridgeway – there's such a strong sense there of how ancient the land is, the feet which have walked that path before. It feels like a place where the veil is very thin.
In the published version of Hive the story is set in rural Kent, in and around the place where I live now. In fact the first draft was set in America, and the story begins on the West Coast, where commercial bee farmers begin their year by taking their hives to pollinate the almond orchards in California, moving gradually East as the growing season draws on, moving from crop to crop. This first version of the story felt bigger and more expansive, far more plot-led, like a thriller. An agent I spoke with about the book suggested a drastic edit: proposing a more contained setting with a smaller cast of characters – with space for their stories and relationships to breathe, giving more attention to the plight of the bees and how this would affect people at a much more intimate, human level. I think that by changing the setting the novel is much stronger for it – though if any Hollywood producers happen to be reading this I still have a copy of that first draft…
Places that inspired me? The hills and orchards of the Weald, the vast open skies and flat fields of the Thanet coast, and the beautiful rich farmland here in Kent. I loved writing about the place where I've lived for so long.
When researching places for Hive I spread out a map of the county, borrowing settings I'm familiar with, changing the names of some of the places and leaving others the same. The setting in Thanet – the giant greenhouses there – is a place I didn't know at all beyond driving past it occasionally. I did what research I could and imagined the rest.
One thing I slightly regret is writing an upsetting scene in the book not far from where I live. It's on a lane where I walk most days. Knowing the place so well really helped me when I came to write the scene, but with hindsight I should probably have set it somewhere else (the problems of having an overactive imagination…). When I've lived with a story for so long that the characters have become real and the places ARE real, there's a strange sort of overlap between the story world and reality. Does this sound familiar to you? Are there things you've explored in your books which feel more real to you than they did before? Have any of your fictional ideas inspired you to start real-life projects?
KM: Oh, yes, very familiar with that strong sense that the characters and settings you are describing are real somehow. I'm fascinated by the act of creation. Where does imagination end and … something else begin? Do our novels come from us, or through us? Sometimes it really does seem like I'm 'channelling' something (e.g. the character of Maud Kerne or other protagonists from my other novels definitely wanted their story told).
The Irish mystic AE (aka George Russell) talked about this in The Candle of Vision – how in dreams it is not merely our un- or sub-conscious inventing stuff, or reshuffling the day's events, but something being glimpsed that is … autonomous – a secret world to which we are granted a brief, tantalising flash now and then. Whether that's true or not (and who can say?) the thought intrigues me, and echoes my many experiences of invention/discovery.
One example in particular has lingered with me (and this will lead into answering the last part of your question). When writing the 3rd volume of The Windsmith Elegy, The Well Under the Sea, I created a fictional setting called Ashalantë – an island at the crossroads of time where lost souls find each other. Borne out of my research into islands (which saw the publication of my nonfiction book, Lost Islands: inventing Avalon, destroying Eden, in 2008), including many field trips to evocative places like Malta, it became very tangible to me, as I 'went' there daily for a couple of years until I had built up a kind of mind palace of it – I could visualise it in 360 degrees. I loved going there – my dream holiday destination!
I returned to it in writing the interactive novel set in the same storyworld: Hyperion: tower of the winds (Tales, 2021) – and in that version the reader-player can explore it themselves by choosing different routes and actions. And over the last year I have been thinking alot about future communities. What kind of world do we want to live in? And can we use the arts to imagine a better future?
I recently gave a lecture on 'Codesigning the ecovillage of the future' for Arts University Bournemouth, and in this I cite the experience of creating Ashalantë. I get participants to fill in a questionnaire to harvest a cross-section of perspectives on a 'future village', and now I'm in discussions about taking the project into schools – as it is so important to include all stakeholders. I also run what I call a 'playshop' – using multimodality and play to creatively explore a chosen theme. In that I encourage participants to consider all those impacted by any such initiative, including the more-than-human and the indigenous concept of the 'Seventh Generation'. I'm hoping that future playshops will produce some great results – getting us all thinking about the kind of world we want to live in.
And so, that leads me to the next question. The philosopher Fredric Jameson famously said that 'it is easier to imagine the end of the world than to imagine the end of capitalism.' And we see this in the countless dystopias on the bookshelves, on the digital streaming services, and in the writing classes. Of course it is completely understandable that people are compelled to imagine worst-case scenarios – especially with the way the world is at the moment!
I wanted to ask you: what do you think about the growing 'pushback' to this in subgenres like Hopepunk, Solarpunk, and initiatives like Manda Scott's 'Thrutopia'? Do you think we should be trying to imagine better futures, rather than nightmarish ones? And what are the challenges of writing positive speculative narratives?
AD: I love the idea of reading about future utopias. In fact I know a writer who is working on just such a book (and I can't wait until it's finished – I'm really looking forward to reading it). I admire anyone who can imagine such wonderful possibilities in our future. I am here for all of those books, and will definitely look into Hopepunk, Solarpunk and Thrutopia.
I wonder, though (and this is of course through the lens of someone who is desperately worried about the world we're living in at the moment) whether we (and our stories) can arrive at utopian futures without losing significant things along the way. In Hive there are a lot of losses – both at a personal and a world level. But because of the ingenuity of the characters and their determination to survive, there is hope at the end, and perhaps a utopia just beyond the horizon? Not just for them, but for everyone. In other words, the nightmare is not, I believe, the end of the story.
For me, this would be the challenge – I can't get past the thought that a positive speculative narrative would have to spring from something very difficult. What do you think?
KM: In terms of narrative causality, I think it's pretty much a given that any speculation about possible futures emerge out of addressing the challenges that we now face: that any paradigm shift, be it positive, negative, or ambiguous, will spring, artesian-like, from the multiple pressures of the modern age. It would be unrealistic to assume 'things will just turn out okay' (the fatal abnegation of quietism and doomism) without some major, and probably traumatic, breakdown and rebirth. Without serious effort by people to turn things around. And people are coming up with the solutions right now – for food, energy, housing, transport, etc – and have for decades, but without political will (as imagined in Kim Stanley Robinson's The Ministry of the Future), or a San Andreas level event (or 'perfect storm' of climate disasters) it won't happen by itself. Not that I want any kind of apocalypse, except in the true sense of a 'revelation'! But out of adversity can arise ingenuity, innovation, and the 'best of us' (and not just the worst as the more nihilist dystopias imagine) and so, in terms of fiction and characterisation, that is what makes good drama. And perhaps good people!
As this initiative – the Climate Fiction Writers League – and many others, exemplify. And so, to end on a positive note – it's been a pleasure having this conversation. Such generous sharings (and well-crafted fiction) give me hope – because paying it forward, as any good novel does, is a hopeful act. And so, to round up, what gives you hope, April?
AD: People working on solutions gives me hope – and I wish that they were more visible. When the Earth Shot Prize was televised in October 2021 it was a wonderful insight into all the work that's going on globally to address environmental challenges. That night I was filled with hope. However I find that it's too easy, with the daily diet of news, to forget all of the good work that's going on. There are so many ingenious projects out there, and people who are focused on what's possible.
Here's to a future where politicians fully engage with the ingenious solutions that are out there. Other things that give me hope? The natural world – especially since Lockdown – noticing the daily little changes outside (including, most recently, a cuckoo that has arrived near where I live. It's the first time I've heard one for years). Last but definitely not least: stories and art and music – the deep and mysterious magic of creativity and creative acts. Thank you for this conversation, Kevan, it's been wonderful. And thanks to the Climate Fiction Writers League for this opportunity!
April Doyle is a writer, tutor and editor who lives in rural Kent with her husband and two sons. She has been teaching creative writing to adults since 2012. April's short stories have been published in women's magazines in the UK and Australia, and her short story Elsewhere was published in an anthology Tales From Elsewhere in 2016. Her short story Rise on the Wings was longlisted for the 2019 Mslexia Short Story competition. Hive was shortlisted for the 2019 Exeter Novel Prize.
Kevan Manwaring is a prize-winning writer & lecturer in creative writing who lives on the ancient downs of Wiltshire. He is the author of over twenty books including The Windsmith Elegy series of Mythic Reality novels; Desiring Dragons, Oxfordshire Folk Tales, Northamptonshire Folk Tales, The Bardic Handbook, and Ballad Tales (ed.). He loves walking in other worlds, but sometimes he prefers to ride his Triumph motorbike.
---
Solutions Spotlight
Today, Katy Yocom shares an extract from Three Ways to Disappear, a contemporary adult novel which involves conservation workers in India trying to save a tiger habitat. In part by helping villagers reduce their dependence on the national parks' resources, and here the NGO workers deal with a drought:
"We need a dredger to dig out that lake," she said.

Back at the Tiger Survival office, they worked the phones for hours. Geeta and Sarah put out calls to other NGOs and government agencies, trying to round up emergency funding. Sanjay and William called their construction contacts in search of earth-moving equipment, though with the ground baked so hard, the equipment might prove useless. At the end of the day, they gathered for a briefing. "The best we can do is start in ten days' time," William said.

"And until then? Geeta asked.

"I can think of only one solution. Bring in the water by tanker."

"Expensive," she said. "And insufficient. But I don't see a way around it."
The World Wide Fund for Nature – India works to protect tigers in India through Biodiversity Conservation and Footprint Reduction.