Back when the whole world was one Island, there was an old man who lived on the beach, who wore nothing but a loin cloth. He had a twisted and ugly face, a ribcage like tree roots running under his skin, and a scent like raw fish left in the sun.
The people from the nearby town found him uncomfortable to look at, and even more uncomfortable to be around. When he came to the market, they would refuse to do business with him. Sometimes all he'd want to do was make conversation, but even for that he was turned away.
The man's name was Truth, and no one wanted to look at him, nor speak to him. If possible, the people preferred not to acknowledge his existence at all…
Storytelling is magic.
This is a truth I've learned over the years, and one I decided to explore in my Young Adult Cli-Fi novel Landfill Mountains. I wanted to write about how this strange form of magic connected with climate change, and hope.
I've practiced this magic myself, in all sorts of places. In libraries with children, in rowdy pubs with adults, in theatres, and charities, even railway museums. I know how it feels to take a room full of people together to an island at the start of the world.
When it comes to this magic, I'm much more student than master. Imagine Mickey Mouse as the Sorcerer's Apprentice, trying his best but not quite managing to control his spells – that's me. I've been lucky, in my time, to listen to some storytellers I consider real masters of the craft, though they'd all be far too modest to describe themselves in that way. One of these storytellers was a woman named Cath, who used folk tales to start conversations around humans' relationship with the environment.
There was another regular visitor to the market who was treated quite differently. She was a beautiful woman, with hair that shone like sunshine, and a dress made of the blue sky. If you stood and watched her dress, you could see puffy white clouds slowly drifted across it.
Her name was Story. When she visited the market, everyone wanted to be around her, and everyone wanted the pride of her buying from their stall. What she noticed, however, was that while the people were enthralled by her beauty, they didn't actually pay attention to a single word she said. It was her appearance they cared for, and nothing more.
When Story saw how the same people who appreciated her beauty but ignored her words treated Truth, she had an idea…
Cath told stories that encouraged the listener to explore how they related to their environment. This could be the old Irish tale of Oisin, Nimah and Tia Ra na Nog, where a mighty warrior leaves his land for paradise, and when he returns many years later finds everything has changed. Or the English tale of The Tiddy Mun, a magical creature who defends his native swampland.
I worked with Cath in a theatre as she told these tales to all ages, from primary school groups to older people's associations. I saw audiences taken away into these tales, before returning inspired to consider their own interactions with nature and how they could take action to protect the world around them.
The reason I know that storytelling is magic, is that the spell worked on me. Hearing those stories changed something inside myself. I already cared deeply about humans' impact on the environment, but I'd felt powerless to do anything about it. Now, I'd seen something that I was able to do that I believed could make a difference. I was inspired: to use the power of stories in the fight against climate change.
The next question was, how could I, in my own small way, actually achieve that aim?
So Story said to Truth, hide yourself inside my blue sky dress. From now on, we will travel together. With my beauty and your bluntness, they won't be able to ignore us anymore.
Truth, seeing the benefits of this partnership, agreed. This is why, to this day, you will always find some small part of Truth living inside any Story.
So, do I see my role now as using stories – written or told aloud – to pass on truths about climate change? Not really, no. How we present and tell the story of the science around climate change is important, because it impacts how people understand those facts. Al Gore's documentary The Inconvenient Truth, and the impact it had when it first came out, is a great example of this sort of storytelling. There's a battle out there as well, between narratives – combating the truth-less stories of those who would try to diminish the threat of global warming, or discourage climate action.
While I'd love for someone to read Landfill Mountains and become convinced of the danger of climate change, I'm aware that the majority of the audience for Young Adult Cli-Fi are already fully aware of that danger. Whether they are teenagers or adults, my readers don't require me to wrap the truth in a story, and I don't have some special extra knowledge I can offer them. But I do believe climate fiction has a purpose beyond being a blue sky dress that holds the truth.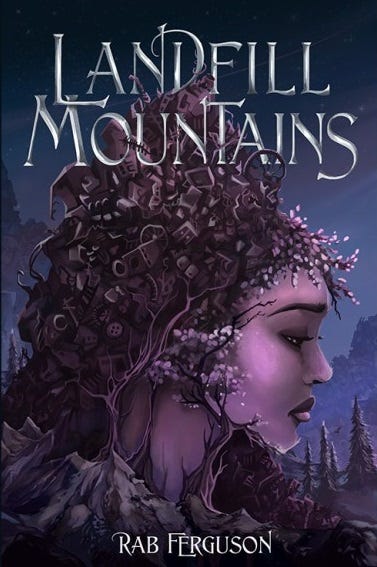 Narrative and story are how we understand our lives. We tell ourselves stories of who we've been, who we are now, and where we're going. The way we tell our own story, structuring our narrative of ourselves and our place in the world around us, defines our perspective of the world and informs the actions we take. It's literally life changing.
This, to me, is why storytelling is magic. Hearing and reading stories gives us new ways to structure narratives, including our own. The Hunger Games, as a Young Adult example, gave the narrative of a teenage girl standing against powerful corporations and a corrupt society – a narrative structure which teenage girls could potentially use to help tell the story of themselves. I wonder how many of those girls, who read Hunger Games and other YA revolutionary tales, are now doing amazing work standing up to huge capitalist monoliths and protesting climate change. Not because books told them to, but because they tried on the narrative of 'young woman trying to save the world', and liked the way it fitted.
That's the sort of magic Landfill Mountains is about. The way stories can change our perspective and experience of the world, altering our own reality – impacting the way we feel and the way we act. I like to think that, despite being set in an environmental dystopia, Landfill Mountains is a hopeful book. It's about humans working out the best way they can to survive, and using stories to help them do that. So maybe that's my manifesto for Cli-Fi, and how it can use the magic of storytelling to change the world. It can give us narrative structures with some hope within them – hope that we're going to need to keep fighting for our Earth, even as things seem increasingly dark.
So perhaps, as Story left the town, Truth wrapped up within her blue-sky dress, she spotted a young girl sitting alone by the river. This girl was only small, but when Story looked into her eyes, she saw space and stars. There were whole universes within this child's eyes.
"What is your name?" asked Story.
"Hope," said the girl.
And Story took Hope's hand, and the young girl joined them on their journey. Now Story, Hope and Truth all travel together, all separate beings, yet all part of each other too.
A final note – in storytelling, it's considered polite to always credit where you heard the tale you are now telling yourself. I first heard the tale of "Truth and Story" on Florence Schechter's YouTube channel. It's a rather different version – I'd encourage anyone reading to give it a listen!
Rab Ferguson is the author of Young Adult novel Landfill Mountains, about climate damage and storytelling magic. His next book is The Late Crew, a middle-grade story about young carers and aliens, out in June 2022. When not writing, he is a performing storyteller, and also works for a charity that champions the power of reading aloud. He also likes cycling, cats, and Bruce Springsteen, but has not yet found a practical way to combine these interests.
---
Solutions Spotlight
In this issue's extract from a book featuring a climate solution, Mark Ballabon shares an extract from his contemporary YA novel Home, where a group of teenagers demonstrate their projects to an audience of over 200 on the last day of summer camp:
They gathered in a semi-circle behind a long table full of all sorts of neatly arranged scientific apparatus. One of the older girls stepped forward.

"Hello, everyone. My name's Yvonne. We have put together an experiment to explain how sea levels on our planet are rising."

She placed a glass bottle full of blue-coloured water on the table right in front of the audience. "Now, look please at the top of this bottle," one of the boys in the team then announced. "Do you see this straw poking up ten centimetres from the top? Look!" he said, pointing to the straw. "Now we're going to position a heat lamp right by the bottle, and you'll see the water quickly warm up inside and start to rise up to the top of the straw." Soon, it was spilling over and forming a blue puddle on the table.

They explained that this showed how global warming and ice caps melting is causing the sea to expand and sea levels to rise.

Yvonne continued, "In this last experiment, you may wonder why we are using a couple of bottles and thermometers, a balloon, vinegar, sodium bicarbonate and a heat source," she said, pointing to each item. "Well, we're going to demonstrate how the air in this bottle, which is rich in CO2, heats up much more than this other bottle with just air in it. The CO2 is trapping the heat."

All our team had their mouths gaping open, as this was basically showing the greenhouse effect which was going to feature in our film! I was pleased that they presented the science, yet so sad again to see how we're harming the planet.
Mark recommends the work of the environmental charity Clent Earth, who use the power of legal systems/protocols to effect change against unlawful/unsustainable land development. They do this by informing, implementing and enforcing the law in such matters as pollution and the protection of natural habitats and biodiversity. Mark used their recommendations when he led a big local campaign to protect an area of London green belt.
---