Denise Baden and Phil Gilvin discuss their novels, and the Green Stories climate writing competition founded by Denise.
Denise: I was amazed when I heard you had started Truth Sister ten years ago – it could have been written last year as it is so ahead of its time anticipating the trends towards greater female empowerment, the pandemic and increased anxiety about climate change. The central thread of following a girl on the brink of adulthood, coming to terms with the difference between the real world and what she has been taught, had a lot of resonance for me. It's shocking when you realise who you thought of as the 'good guys' really aren't. It was really gripping, and I'm so glad you left the reader with a sliver of hope at the end.
Phil: Denise, I really loved Habitat Man – a well-written, light-hearted and pacy read with believable characters and a telling environmental message. When Tim Redfern, stuck in a job he doesn't like, hits fifty he knows it's time for a change, and sets out to help people make their lives more sustainably. Along the way he meets a whole range of people, from a hostile teenager with an air-rifle to a Buddhist monk with secret yearnings to be an accountant, and helps them to see what's great about nesting-boxes, green burials and composting toilets. Helped by his long-time friend Jo, he tackles his problematic love life, confronts a secret from his past and invents the Random Recipe Generator.
Denise: What inspired the story of Truth Sister?
Phil: I'd already written a couple of YA fantasy/ science-fiction-type novels that didn't make it to publication, but when Truth Sister began to come together – ten years ago, as you say – I felt I wanted to branch out and explore some of the themes that interested me at the time. Climate change was one of those, of course; another was the idea that as our population grows, our energy and mineral resources will run low. Yet another was about the effect of pandemics – about which, of course, we now know a lot more! Truth Sister plays out in a world where each of those threats has taken effect gradually, which I think is more likely to happen than a sudden apocalypse.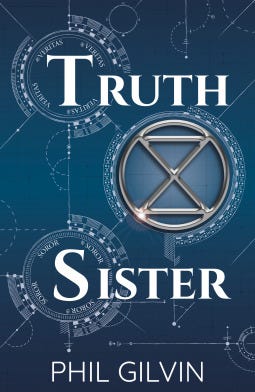 Phil: How about you, Denise? What was your own writer's journey? What inspired you to write about sustainability, and Habitat Man in particular?
Denise: I've been interested in the potential of fiction to inspire green behaviours ever since I read Ben Elton's Stark. I would never have chosen to watch a climate change documentary, but his comedy thriller smuggled in green issues and really opened my eyes. I'd say that was when I became a bit of a greeny.
My day job is as an academic at the University of Southampton in sustainability and it can get frustrating as few people read academic articles. I turned to fiction as a way to reach a wider audience. In 2018, I set up the free series of Green Stories writing competitions. We've run 14 competitions so far, but even so, few entries were aimed at mainstream readers, and I was worried about preaching to the converted.
In 2019, I had a visit from a green garden consultant who had retired early to help locals make their gardens more wildlife friendly. He gave me all kinds of wonderful suggestions: what pollinator friendly plants would thrive in my garden, take down my bamboo and replace with a native tree, plant a hawthorn bush to screen off wildlife area at back of garden, and dump vegetation and garden debris there to create a habitat area – so no more trips to the dump. He installed a water butt, put up a bat box, advised on a pond. He was frustrated though that he was only one man and could only do so much, and I immediately thought what a great idea for a book. My fictional hero ditches his job to become Habitat Man and visits all kinds of gardens, falls in love, digs up something he shouldn't and in the process of telling a love story, I share green solutions naturally as part of the plot.
Denise: Did you worry about writing a female protagonist as a male author?
Phil: That idea chimed with another topic that interested me. In terms of women's equality, there's been some progress in recent decades, although there's still a long way to go. Taking that forward I wondered what would happen if men were (more or less) out of the picture? In turn, that pointed towards having a female protagonist. Yes, I was a little worried, but there are lots of precedents for authors who've written with opposite-gender protagonists (J K Rowling and Philip Pullman spring immediately to mind), so I knew it could be done!
Phil: How about you, writing a male protagonist in Habitat Man?
Denise: I admit I was worried that I might get called out or that readers would think my hero was too 'girly'! I interrogated all the men in my life to the point of discomfort how they felt and would react. Also I have two boys and grew up with a brother which helped.
Denise: What are you hoping readers will take away from the story?
Phil: In the first place, the conviction that these threats are real: it could happen here (and probably will). In that respect, Truth Sister joins a large body of cli-fi literature that's saying the same thing. And when you get climate-change deniers who are running the most powerful country in the world, you know there's more work still to be done! But the other theme, and perhaps the more important, is that in the challenging future that lies ahead, we need to co-operate. We need each other.
Phil: Habitat Man has a very light-hearted style, which makes it an easy and fun read – but within that, it covers some serious issues. What would you say is the book's theme?
Denise: The theme is walking lightly on the earth. Through the main character, Habitat Man, the reader can see the world from the perspective of wildlife, such as worms, birds, hedgehogs, bees etc. But there are also broader themes of love, friendship and parenthood.
Phil: Whereas Truth Sister looks at the rather dystopic consequences of climate change, Habitat Man is more about what we can do at local level to live more sustainably. Do you think it's maybe time for writers to switch from being "prophets" of Climate Change to looking at the solutions?
Denise: Certainly in the UK, I think if people aren't aware of the issues it is because they don't want to be. This is understandable as the climate and diversity crisis is frightening. I decided upon my approach as a result of my research into readers' responses to short stories with either a catastrophic focus or a solution focus. The solution-focussed stories were much more effective in inspiring proactive behaviour change, especially if characters were role modelling actions readers can easily do themselves. The catastrophic tales inspired some, but just as many switched off. I was also alarmed by recent statistics showing most young people have nightmares about climate change and think humanity is doomed. I don't want to increase eco-anxiety – I'd rather enable effective action.
Denise: Phil, Considering the key theme of men being seen as evil, do you expect male and female readers of Truth Sister to respond differently?
Phil: In some respects. The sexes have similarities as well as differences, and I hope some of the messages are universal. But I did want to raise questions for the reader, such as, how would a world without (many) men look, and would a matriarchy make the same mistakes as a patriarchy? I don't know the answers, of course; indeed, there are probably no definitive answers. But it's certainly worth thinking about.
Denise: A lot has changed already in the 4 years since Truth Sister was first published in terms of the 'me too ' movement. When you republished in 2021 did you make any changes as a result?
Phil: No. The shift in Truth Sister is already a radical one, and although it's been caused by disease, the establishment view is, at the start of the novel, that men are not to be trusted. I was trying to imagine what would happen if the view that men are the cause of all the world's evils became dominant.
Phil: The characters in Habitat Man are colourful and diverse, but there are not many who are resistant or opposed to living sustainably. Was it your intention to write it this way?
Denise: The plot is based on a man who reaching 50 who chucks in his job to become Habitat Man, helping to make gardens wildlife friendly. So the people who ask him to visit are necessarily already interested in nature. However in second chapter, he pitches the idea of costing for nature to his firm of financial accountants and he certainly does meet resistance. The scene becomes quite comic, but his frustration is one that many feel. This frustration was portrayed brilliantly by Jennifer Laurence in the Netflix sensation 'Don't Look up'.
Phil: In terms of sustainability, have you found that writing Habitat Man has changed your own habits?
Denise: I tried out everything in the book that Habitat Man recommends. I dug a pond and got a couple of frogs visiting it, and last week I saw a newt. I was delighted as I only had room for a small pond. I got a gorgeous multi-coloured composting toilet from Strumpet and Trollope and installed it in my garden shed for when my son was hogging the bathroom. I lay some meadow mat to attract butterflies and crickets. That was less successful, despite Quality Garden Supplies assuring me it wasn't plastic backed – it definitely was, so not as great for the wildlife as I'd hoped. This issue made its way into one of my chapters.
Denise: Truth Sister must have involved quite a lot of world building – how did you approach this aspect?
Phil: I asked myself about plausible scenarios for how the various threats might affect the world over the next century, and from that I created started with a timeline of possible world events. To support that I did some research around likely climate change and disease scenarios, for example using Mark Lynas' Six Degrees and Robert Baker's Epidemic as well a lot of online resources. And, in guessing how one event might lead to another, I tried to do what detectives in crime novels are supposed to do: follow the money. What would the economic factors be? But all of this was fairly broad-brush. It's impossible to build down to the smallest details, until you start writing.
Denise: Did you originally plan Truth Sister as a trilogy?
Phil: Yes, I did have it in mind when I started. But the outline plans for Blackwolf (Aelurus Publishing, out in April 2022 and already available to pre-order) and The Scorpion (two-thirds drafted) evolved a lot while I was writing Truth Sister. The main themes continue throughout the three volumes, but where Truth Sister focuses on climate change, books II and III will look at epidemics and at migration and refugees.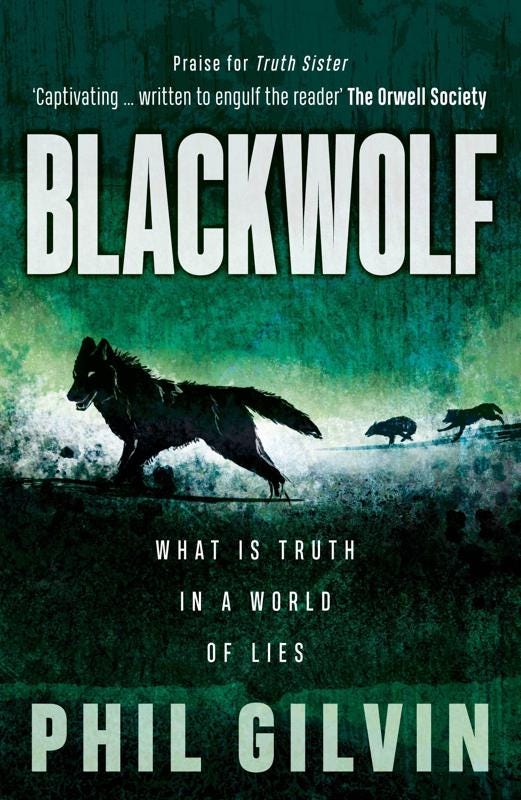 Phil: How about you, Denise? What's your next project?
Denise: I have so many stories stacked up for when I have time to write them. Tim's back story is waiting to be written as a prequel so we are introduced to him as a 16 year old. To keep Habitat Man down to a reasonable length I had to cut loads of characters and gardens and plot lines so they will make their way into sequels. I also want to do more with the secondary characters, especially in terms of Jo's (the hero's best friend) back story. Reader feedback is that some love her and think she is hilarious and others hate her and think Tim would be better off without her. I'd love to give some insight into what has made Jo the way she is today. And of course I'd like to develop the love story with Lori.
However, while I'm still employed as a sustainability academic, I'm focussing on new projects for the Green Stories competitions I run. I've done lots of research on the powerful effects of role models, both good and bad (the role models, not my research!) Based on this, I'm launching a new competition with BAFTA to create a short video that raises awareness of the role of fictional role models in promoting sustainable lifestyles, and call out those writers, producers and characters that implicitly promote excessive consumption as an aspiration. I'm very excited about this, as cultural values of consumption are a part of the problem that are rarely debated, and I'm hoping this video will start a conversation around that.
The Green Stories project has also just partnered with the Ecologisers on an Eco Santa competition to make Santa Claus a role model of sustainable consumption. For example one story submitted last year had toys coming from a toy hospital rather than a toy factory, thus implicitly promoting re-use.
But come the summer holidays, I'll be back at my laptop, working on a prequel to Habitat Man. I can't wait!
Phil: Denise, thanks so much. It's been great chatting to you.
Denise: Thank you Phil. It's lovely to make a connection with other authors with similar aspirations.
Find out more about Habitat Man and Truth Sister.
Denise Baden lives near Southampton by the beautiful riverside park where she is often to be seen walking with her dogs and plotting! Denise has published widely in the academic realm, written 3 screenplays and one musical 'Fidel', based on her research on Fidel Castro. This is her first novel.
Phil Gilvin lives with his wife in Swindon, Wiltshire. When his children grew too old to have stories read to them, he turned to writing, winning a number of short story prizes. Truth Sister is his first published novel. His other career is as a scientist (now part-time), and he enjoys walking, listening to classical music and prog rock, and murdering folk songs.