Don't forget to enter our book giveaway!
My first nonfiction book for children is published by Templar Books next month. Talking History, co-authored with Joan Lennon and illustrated fabulously by André Ducci, takes a critical look at 15 famous speeches and the people and events surrounding them. Two of the speeches relate directly to the climate crisis. The team behind the book, however, sees all of these speeches as highly relevant to the cause, and our hope is that young readers will too. Evidence from Human Rights Watch shows that the way we treat each other is intimately related to the way we treat our planet.
And how we treat our planet is a growing category of books for young people.
Book cataloguing and marketing depends on categorisation – and in nonfiction, this is dedicated to 'issues' as well as genres. Importantly, the way books are categorised changes over time and across different spaces. After all, the labels we give to objects, fellow humans, and situations are never immutable facts – they are invented. So, a book of stories about people with neurodiversity will no longer be placed exclusively under 'The Human Mind', but also, perhaps, in a section for 'Diverse Voices'. And it will share a shelf with a book about indigenous rights that had previously been located in 'World Culture'. I teach travel writing for a US liberal arts college. It's a shrinking section in the bookshop. The books are still being written, but they've been labelled differently – 'Memoir' or 'Nature Writing', mostly.
Sometimes, books and their authors defy categories. Dara McAnulty's books sit in just about all of the sections named above and a few others, including 'Inspirational People' and 'Activity Books'. His Wild Child: A Journey through Nature is a gentle set of lessons on how to engage with the natural world on our doorsteps. One thing I love about McAnulty's books is how he demonstrates the personal rewards our connection with the world around us can give; and we know that connecting with nature improves our physical and mental wellbeing. He also explains to young readers that the idea of 'nature' is relatively new – it, too, is socially constructed – a lesson many adults have not yet absorbed. Simply, we cannot keep separating our own species and its needs from the natural world.
There are many brilliant books on nature and natural history. They are hugely powerful in sparking young people's compassion and fascination with other forms of life on Earth, especially for children who find fiction a challenge. There are dozens to choose from. My favourites bridge a gap between straight fact and storytelling. From Shore to Ocean Floor by Gill Arbuthnott and Christopher Nielsen is a stand-out for me, as is The Big Book of Belonging by Yuval Zommer – both are beautiful and brimming with nuggets for readers to take away, think about and share. And Leisa Stewart-Sharpe (Blue Planet II, What a Wonderful World, How Does Chocolate Taste on Everest? and more) is a wizard at pulling in readers for the narrative adventure, and then equipping them with knowledge and confidence along the way.
There is a growing emphasis in kids' books on learning about the natural world not only for the joy of it but for the explicit purpose of rescuing it. Titles such as It's Up to Us (Christopher Lloyd), How You Can Save the Planet (Hendrikus van Hensbergen), Activists Assemble – Save Your Planet (Ben Hoare and Jade Orlando) and Kids Fight Climate Change (Martin Dorey and Tim Wesson) almost warrant their own set of shelves. These are, doubtless, driven by young people wanting to act. I do worry, though, that these prescriptive books place the onus on the next generation, when the industry behind the books is still struggling to reduce its own carbon footprint and guarantee ethical supply chains. We need young people on board, of course, but a more accountability on the part of publishers might see more immediate impact.
One of the marvellous things about publishing with Templar, part of Bonnier Books, is how seriously they take issues of sustainability and inclusion. In January 2021, Bonnier went beyond carbon neutral to carbon negative, by reducing and offsetting emissions and investing in projects that capture greenhouses gases. They currently offset by a significant 20%. So, technically, if you buy a book from a Bonnier subsidiary, you are helping to reduce carbon emissions. Bonnier has taken a holistic approach to sustainability that tackles social inclusion and the climate emergency as intimately connected. Perhaps this is why, for me, Talking History, at its core, has grown to be about both those things. I am curious to know how the book will be catalogued. It won't be under 'Nature'. On the face of it, the speeches in the book are wide ranging – about war, voting rights, girls' education – but each one is actually about empathy and the need to act together, urgently, for positive change. And if that doesn't speak to our current environmental predicament, I'm not sure what does.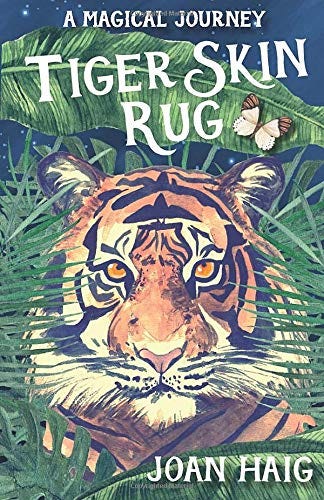 Find out more about Joan's books Talking History and Middle Grade fantasy Tiger Skin Rug.
Joan Haig, born in Zambia, was weaned on avocados and stories. When she was twelve, her family moved to the happy isles of Vanuatu in the South-West Pacific. She has lived and travelled all over the world, most recently settling with her husband, children and cats into a little cottage in the Scottish Borders.
Joan has researched and taught at the University of Warwick and University of Edinburgh; her teaching has won awards and her work on migration and belonging has been published in academic journals and edited volumes. She now works for Arcadia University's Edinburgh Center.
Her writing dream is that her stories for children are enjoyed far and wide -and touch some grown-up hearts along the way.
---
Climate News
Transforming the stories we tell about climate change: from 'issue' to 'action' [Research paper]
Does Climate Fiction Make a Difference? [Lithub]
Now accepting climate story submissions [Flourish Fiction]
Build a climate tech MVP in 8 weeks [Build for Climate]
Writing About Our Climate Reality: Meaningful Climate Storytelling – webinar on Jan 12th