Today, two authors discuss their writing: Cynthia Zhang, author of the adult contemporary fantasy novel After the Dragons, and Saul Tanpepper, whose story The Cloud Weaver's Song won second place in Grist's climate fiction competition Imagine 2200. Read or listen to a 30-min audio recording of the story online here.
You can read Sim Kern's previous interview with the competition winner Lindsey Brodeck here.
ST: Hi, Cynthia! It's so good to be able to meet and talk with you! I just finished After the Dragons and I just love so much about it, particularly that you chose to set it in Beijing. I've done a lot of traveling, but I've never been to the Far East, so I'm always excited to read stories set there. Given that you grew up in the United States, I'm curious why you decided to set your post-climate change story in China.
CZ: Hi Saul! Thanks so much for kicking off this conversation, and I'm so glad you enjoyed the novel!
I grew up in the US, but I was born in Beijing, so it's always felt like a central part of my experience of China even though my parents aren't actually from there. As a kid, our flights from the US always landed in Beijing, so my summer memories of visits home always began with Beijing, this old, busy city where I could read maybe half the billboards. So part of it is nostalgia, the desire to connect with a place that I am technically from but which (because my parents left for China when I was four) I have very few real concrete memories of.
Beyond personal history, Beijing felt like the natural setting for After the Dragons because it's such a contradictory city. Which fits, since the People's Republic of China is itself a deeply contradictory country itself—a communist state with one of the largest capitalist economies in the world, an old country eager to modernize, a rising superpower that still has a major chip on its shoulder because of nineteenth century colonialism. There's a lot of wealth and innovation in Beijing, but there's also a lot of poverty and suffering, much of which has been caused by development itself—I remember reading about the 2008 Beijing Olympics and how thousands of residents were displaced to make way for new buildings. Those were some of the tensions on my mind when trying to write about my relationship to a country I left when I was four.
And just logistically, Beijing works as a setting because for years the air pollution there was notoriously bad. I hear it's been getting better in recent years though, which is very heartening to hear—obviously there are still plenty of problems to tackle, but it's good to know that change is still possible, no matter how dire the circumstances seem.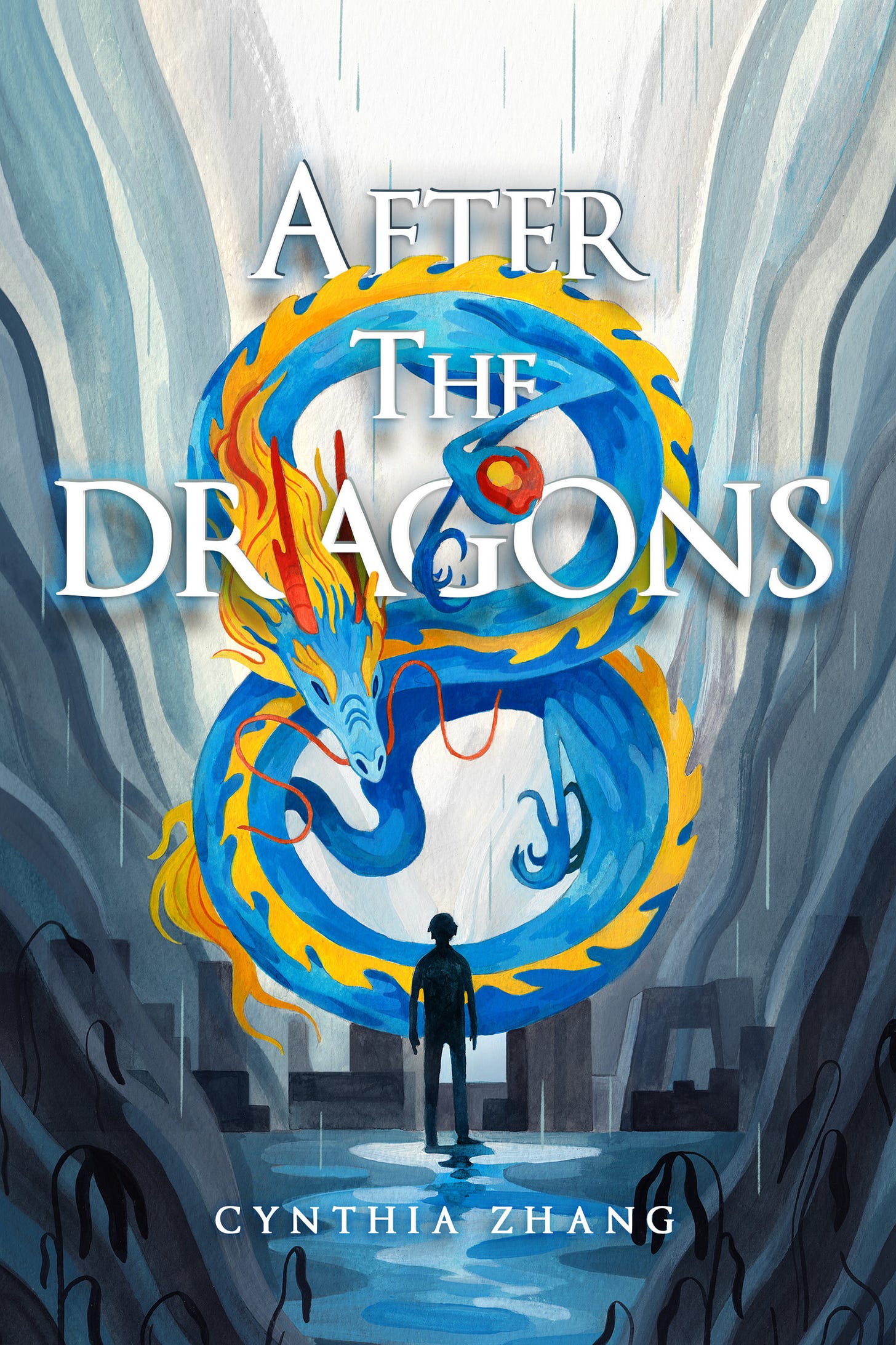 I have a few questions about your work as well. First of all, congratulations so much on placing in the Imagine 2200 contest – that's such a huge feat, and I'm glad it means that The Cloud Weaver's Song can reach new readers, including me!
ST: Thanks, it really is an honor to be one of the twelve diverse storytellers featured in Fix's inaugural climate fiction collection. At a time when doom and gloom pervades so much of the climate discussion, a project looking to inject hope and a sense of endless possibility is a refreshing change. So, what would you like to know?
CZ: Something I was struck by throughout the story was the constant tension between tradition and change. There's something deeply ironic in the fact that tradition prevents the Sky People from listening to Semhar and adapting to new conditions when the Sky People's way of life developed out of adaptation. At the same time, I can imagine that living in precarious circumstances would give tradition even more power—experimentation is difficult because the risks are so high, so it feels far safer to stick to what has already worked. I think this is a very relevant message for the current global response to climate change, but I'm wondering if you have anything to add on this topic. How do you think we can balance the need to change with the responsibility of listening to the past?
ST: When I set out to write the story, I didn't consciously plan to pit the need to change against the Elders' reluctance to embrace it. In retrospect, I suppose the theme arose organically out of the zeitgeist as it relates to our current climate challenges. There's an intuitive sense that technology, the driving force behind change, enabled us to have such a large and rapid impact on the climate. Perhaps this explains why there's such a strong resistance to employing new technologies as solutions. Realizing that we can't roll the clock back, either, has paralyzed us into not doing anything at all. Of course, that's not an option. We have to make changes, and we have to be both brave enough to accept this fact and creative enough to conceive of new technologies.
I don't know if the organizers of the contest intended for us to avoid this dilemma by asking us to place our stories 200 years in the future. However, in doing so, they freed us to consider how a society might have already overcome the broader challenges of climate change without tasking us to explain how our characters overcame their reluctance to doing it. But it's such a perennial conflict that I guess I simply couldn't avoid making it a central theme in The Cloud Weaver's Song.
It's interesting that your own story employs some of these same tropes, albeit in a completely different and unique way, by incorporating a mythological element into a real world setting struggling with modern-day problems. And I just love how you juxtapose your vivid, colorful descriptions of the dragons against Beijing's often drab and desolate backdrop. China's cultural history with dragons is steeped in reverence. But you go further in your story: Dragons have become commodified. They're kept as pets, they're disposable, and they're even used as tools for turning a profit. So, once more we have this same tension between honoring tradition and moving past it. But you take it even one more step by envisioning a way for dragons to become crucial to your characters' story arcs. It's… inspired.
CZ: Ah, thank you! I'm so glad you enjoyed the depiction of the dragons in this story—I've always had a soft spot for animal characters, and I'm glad these little scaly terrors could slither their way into your heart. Speaking of inspiration, I was really taken with the central technology of the webs in The Cloud Weaver's Song. They're so striking and unique—I don't know that I've seen anything similar in sci-fi, though perhaps maybe in myth. Was there any particular inspiration for gathering water via webs? Something in nature, perhaps, or maybe new developments in tech?
ST: The ideas are based on existing technology. For example, meshed dew-catchers are currently employed to harvest water from the air in deserts around the world; and mech — or exo — suits, such as the one Sigourney Weaver's character dons in Aliens, are an emerging technology.
As you know, I set my story in the Dannakil Depression of the Horn of Africa, one of the most inhospitable places on the planet. One of the themes the organizers had encouraged in our submissions was Afrofuturism, which is an expression of the sociopolitical, cultural, and technological experiences of the African people, particularly of its diaspora. Again, in hindsight, I think this was very clever, since, as a genre of fiction, Afrofuturism blends the modern with folklore and myth. Think of the Kingdom of Wakanda in Black Panther as a reference. So, yet again, there's that dynamic between the old and the new. By calling Semhar's and Alimira's mech suits spider and termite skins, respectively, I wanted to invoke in the reader's mind the unique cultural and mythological experiences of the people of the region.
You took a different approach in After the Dragons by highlighting the culture clash between your two main protagonists, Kai and Eli. But the friction between them extends to their personalities, as well. Kai is an artist with a strong sense of morality, while Eli is the scientist driven by his emotions. It's a fascinating juxtaposition, since it switches the stereotypes of what motivates them. Was this intentional? And how does the interplay between the two of them – the conflict, tension, and ultimately their feelings for each other — help them finally come to agreement? And in your opinion, how does their reconciliation speak to whether or not our world can agree on much larger issues, such as climate change?
CZ: So, fun fact: both my parents are scientists and my brother is currently in med school, making me the familial black sheep who chose a very different (and far less stable) career path. When developing Eli and Kai as characters, I don't think I was consciously thinking in terms of an art/science divide, but it's possible that this is because that divide has always seemed a little artificial to me. Though I work in the humanities, I have a great deal of respect for what colleagues in STEM are doing, and in contrast to the STEM/humanities antagonism that many media stories emphasize, I try to focus on the ways both fields can learn from each other. Which I suppose is something that bleeds through in After the Dragons insofar as Eli and Kai are characters with very different backgrounds who learn from each other.
Overall, I see both Eli and Kai as characters who want to help the world around them, but they feel differently about their ability to enact meaningful change. While I wouldn't necessarily say he's naive per se, Eli is fundamentally more optimistic and better at managing despair. Tiny elementary schooler Eli rescues a box of abandoned kittens, and while that experience inspires disbelief about the kind of people who would do such a thing, he's struck by the wonder of tiny creatures brought back to health by care and kindness. Kai does his best to mitigate injustice where he can, but he's more prone to despairing over how much work there is to be done. And to be fair, there's a lot of reason to despair! We need large-scale, structural change if we want to survive, and the vast majority of the people in power are simply not interested in that.
But even as we grieve and mourn what's lost, I think it's important to find ways of sustaining ourselves nonetheless. Of understanding the importance of protecting what is left and the ways in which our actions, even if they seem so small against the vastness of one hundred companies producing 71% of carbon emissions—God, just saying that makes me depressed. Still. Social movements have never been led by the rich and powerful, and that just means it's all the more important for us to do what we can now.
Returning to The Cloud Weaver's Song, I really love about your story is how hopeful it is. It's not a naive hope—the People of the Sky have suffered significantly, and there's suffering in their future if their leaders refuse to change—but just the idea of the Earth becoming green and inhabitable again. In wrestling with my own climate anxieties, I've tried to balance awareness of the planet's fragility with an acknowledgement of nature's resilience. Things are bad and they're going to get even worse, but maybe at some point in the future we can figure things out. On the spectrum of doom to cautious hope, where would you place yourself and this story? And asking as someone who has a lot of anxiety about climate change, how do you manage climate anxiety/grief?
ST: I'm actually really optimistic about our chances. This may seem self-contradictory, since a lot of my fiction is dystopian and post-apocalyptic and incorporates elements of global warming and its dire consequences. It's a reflection and exaggeration of the real world as it is today and of people's fears. But there's always an element of hope as well, an ability to overcome, which reflects my own personal sense of possibility. As a former scientist, I'm keenly aware of the power of technology and the human mind to conceive of ways to do things better… once we set our minds to the task. Right now, the world is in a bit of a slump due to Covid-19 and a string of natural disasters that have the media beating the gloom and doom drum. People are eager for more reasons to hope, and they'll look to stories to deliver it to them.
Your characters' challenges mirror this. They have a certain fragility, whether it's physical or emotional, and a resignation to a fate that feels immutable. But it's all overcome by the arrival of the right person at the right time, someone who is brave enough, and optimistic enough, to take chances and find solutions. Importantly, he doesn't do it alone. That's an important message for us all, because neither can we.
CZ: Yes, definitely! There's the idea in a lot of dystopian fiction that under dire circumstances, humans will revert to a natural state of violence and selfishness. History will give you plenty of examples for that argument, but there are also just as many examples of how people have managed to band together despite dire circumstances. Working together is hard and complicated and frustrating, but it's also our best bet for making it through this.
You can read The Cloud Weaver's Song here, and find out more about After the Dragons here.
Saul Tanpepper is the author of the popular post-apocalyptic book series BUNKER 12 and ZPOCALYPTO, as well as the climate fiction stories "Leviathan" and "They Dreamed of Poppies." A former combat medic and retired PhD scientist from Northern California, he is the co-author (as Kenneth James Howe) of the African diaspora memoirs "Relentless" and "I Will Not Grow Downward."
Cynthia Zhang is a Ph.D. student in Comparative Studies in Literature and Culture at the University of Southern California. Her work has appeared or is forthcoming in Kaleidotrope, On Spec, Phantom Drift, and other venues. After the Dragons, her debut novel, was released in August 2021 with Stelliform Press. She is tragically online and can be found at cz_writes on Twitter.
---
News Round-up
Ten ways to confront the climate crisis without losing hope [Guardian]
Climate migration on five levels: a response to Undullah Street [Storythings]
Liverpool's Theatre in the Rough has announced an open callout for short works for a new digital arts festival exploring women's experience of the Climate Crisis – open to female writers living in Liverpool