Rab Ferguson talks to Stephanie Burgis about her new book The Raven Heir, which is out now.
I've just finished The Raven Heir, and I loved it. There's so much I want to talk to you about in this wonderful middle grade novel! But before we get into it, how would you describe the book to a new reader?
Thank you so much! The Raven Heir is the story of three children who've grown up in an enchanted forest only to discover one day that everything they thought they knew about themselves and their family was wrong. Now one of them is the heir to the throne – and they're all in deadly peril.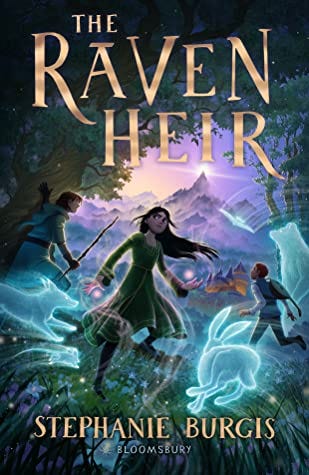 One of those three children is the main character, Cordelia. An element of the novel that particularly spoke to me was Cordelia's connection to nature. She has the power to turn into different animals, and from the beginning feels called to go out into the wild. Could you tell us a little about your thinking behind that connection?
I've always loved the idea of shapeshifting, but of course you can't transform into an animal in every way without being changed inside. As I was writing Cordelia's character, I wanted to give her a really strong intuitive sense of the natural world around her that's very much tied to the various animal aspects of her nature. There's a strong core of personality – her essential Cordelia-ness! – that remains unchanged in every form; but some of the wild, animal elements that she's gained through all of her animal transformations remains within her even when she's wearing her original human form.
I found that so interesting, especially when she was in animal form and took on a bit more of that particular animal's character. I have to ask: if you could transform into any animal, which would it be, and why?
What a great question! I have thought about this a LOT (you will not be surprised to hear!), and my answer is generally a cat, but with breaks to become a red kite so that I could fly (without any fear of being snapped up by larger predators).
However, if it REALLY has to be just one animal, I'll stick with cat after all.
So you and I are two of many writers in the Climate Fiction Writer's League whose work is aimed towards children and young people. What draws you to write for the middlegrade age range, especially around the topic of the environment?
I have two middlegrade-aged kids, so I can say from their experience that MG-aged kids right now are learning about climate change in school AND a lot of them are extremely concerned about it – and unlike many adults, they're willing to consider the kind of big changes that society needs to avert a total crisis. When we address environmental issues in MG fiction, we're not telling kids anything they don't already know, but we are offering hope and empowerment and the reminder that it's worth fighting to make things better for everyone!
Something I liked in The Raven Heir was that the environment itself was key to the book, and had its own personality. Could you tell us more about the importance of the landscape to the novel?
When I set out to write The Raven Heir, I knew one of the triplets at the centre of the story would be the "rightful" heir to the throne…but that is such a fraught concept to wrestle with, especially in our modern era! So the big question I had to answer was: what would actually MAKE any one person the "rightful" king or queen? WHY would they be better than anyone else for the job? And that brought me back to the old folk belief that a sign of rightful royalty was the happiness of the land; if a land was ruled by its rightful ruler, the harvests would be good and there would be no droughts or famines.
As I was working all of this out, I was also accompanying my kids on protest marches as part of Greta Thunberg's global School Strikes for the Climate…and all of that bubbling anxiety over our own climate future and all of my admiration for the passion of the kids who actually organised those protests in our town came together in the conception of the powerful and magic-infused land of Corvenne.
Those protests and the young people behind them were so inspiring. It's interesting that these real world issues can spark the writing of fantasy. What's the advantage of talking about these real problems in the magical genre?
I think that when we reconceptualize a real-world issue in a fantasy setting, it gives us some much-needed distance from the fears and the day-to-day stress factors that can overwhelm us and stop us from trying to find solutions to that problem in real life. It's all too easy to get overwhelmed on a day-to-day basis when it comes to climate change and think – it's too big, it's too hard to change, it's unstoppable… But the truth is, there ARE options we can fight for on a big structural level by putting pressure on businesses and on our governments, and we CAN fight for change even when it's hard. I hope that my fantasy adventure – where 3 kids are given the option of either hiding from the huge problems of their broken kingdom or stepping forward to try to make a difference – can leave readers feeling empowered and hopeful and willing to make the hard effort to fight our own world's problems.
I love that. It feels so important to remember that even broken kingdoms can be changed! I'd be interesting to hear a bit about your writing process for the novel. Was it all planned out beforehand? Did Cordelia or the or the other characters anything to surprise you along the way?
I wrote the first four chapters before I stopped to do any planning at all, but then I did pause and – since this book was sold on proposal – talked through the story a bit with my editors, which mostly consisted of them asking important questions about the worldbuilding that I needed to figure out for consistency before I kept going. That was really good for me, but the truth is, I never plan books in a lot of detail – I'm very much an exploratory writer. Whenever I write a first draft, I'm always following the internal guideline: "What would be the most fun thing that could happen next in this scene/chapter? What would make things harder for my protagonist in the most interesting way?" So every chapter is full of real surprises!
That reminds me of a Neil Gaiman quote, that the first draft is you telling yourself the story. I wanted to finish by asking you three favourites. Favourite character, favourite setting, and favourite magical moment from The Raven Heir? And why, of course!
Ooh, this is such a (good) tricky question! My favourite character as I wrote completely depended on the scene. I love all three of the triplets! My favourite setting was the mysterious Mount Corve, home of the ancient spirits of the land. And my favourite magical moment might be the first time the land actively whispers to Cordelia!
Finally, where can people find you if they want to learn more about your writing?
On my website! You can read excerpts from all of my books there and also find links to lots of free short stories. http://www.stephanieburgis.com
And of course I'm on Twitter and Instagram too (as @stephanieburgis and @stephanieburgisinwales, respectively)
You can find out more about The Raven Heir here.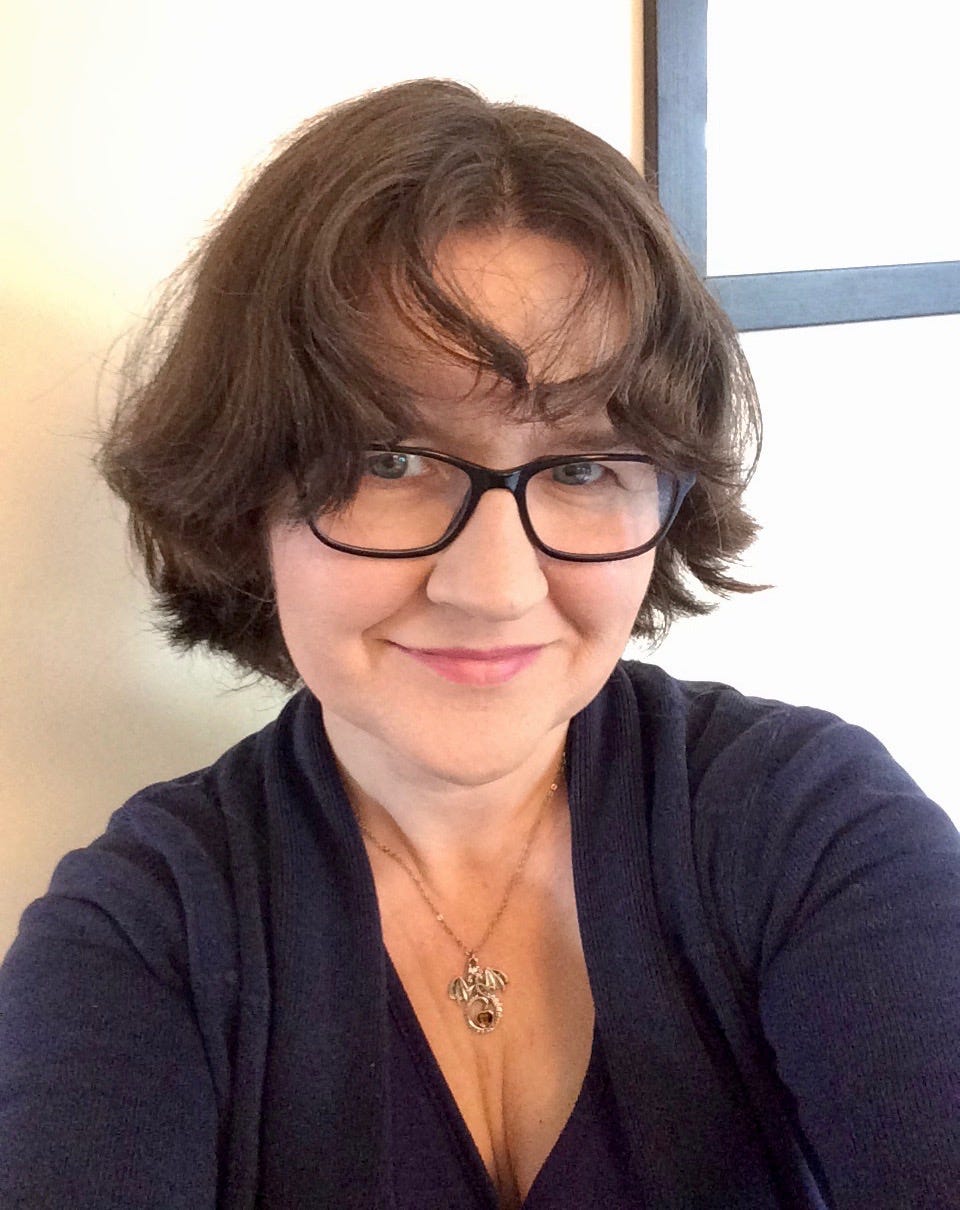 Stephanie Burgis grew up in East Lansing, Michigan, but now lives in Wales with her husband and two sons, surrounded by mountains, castles and coffee shops. She writes fun MG fantasy adventures and has published six so far, most recently the Dragon with a Chocolate Heart trilogy and the Raven Heir duology. She also writes wildly romantic adult historical fantasies, most recently the Harwood Spellbook series. She has had over forty short stories for adults and teens published in various magazines and anthologies.
---
Climate Change in the News
How to write and think about a warming planet [Galaxy Brain newsletter]
Meet the BIPOC Farmers Cultivating Green Spaces in NYC [Teen Vogue]
Why publishers need to take action on climate change today – an open letter by 100+ UK authors, organised by League member Piers Torday
LGBTQ rep in Books About Climate Change [LGBTQ Reads] – by League members Sim Kern and Cynthia Zhang
#ReadGreen Campaign – Amazon KDP to switch to sustainable book printing on recycled paper [Change.org]
Facebook let fossil-fuel industry push climate misinformation, report finds [Guardian]
Democrats Seek $500 Billion in Climate Damages From Big Polluting Companies [NY Times]