by Kate Kelly
All my life I have lived near the sea. I've spent my days watching the pulse of the tides and smelling the salt on the air. The sea is my life, my passion, my career (I'm an oceanographer). For that reason it was inevitable, when I turned my hand to writing fiction that the sea would feature as a recurrent theme.
Most of the Earth's surface is covered by water, and yet the ocean depths are one of the least explored regions of our planet. Life began in the oceans, and their circulation patterns have a major effect on our weather and climate. For example, it is the warm waters of the North Atlantic Drift that give the UK its mild weather, when it's at the same latitude as Labrador!
Ever since climate change was first recognised by science, authors have been exploring various scenarios through their fiction. As a result Climate Fiction covers a wide variety of possible futures for our planet and our civilisation and the ocean plays a vital part in many of these. Let me share with you a few examples.
One of the first effects of a warming world is that the ice caps start to melt. Sea ice in the Arctic Ocean has been showing some of its lowest summer extents in recent years. As more of the underlying ocean is exposed so more sunlight is absorbed, warming the waters and increasing the melting.
The loss of the Arctic sea ice is a tragedy for the creatures who live in these regions as year by year their habitat disappears. This loss of habitat is poignantly explored by Hannah Gold in The Last Bear.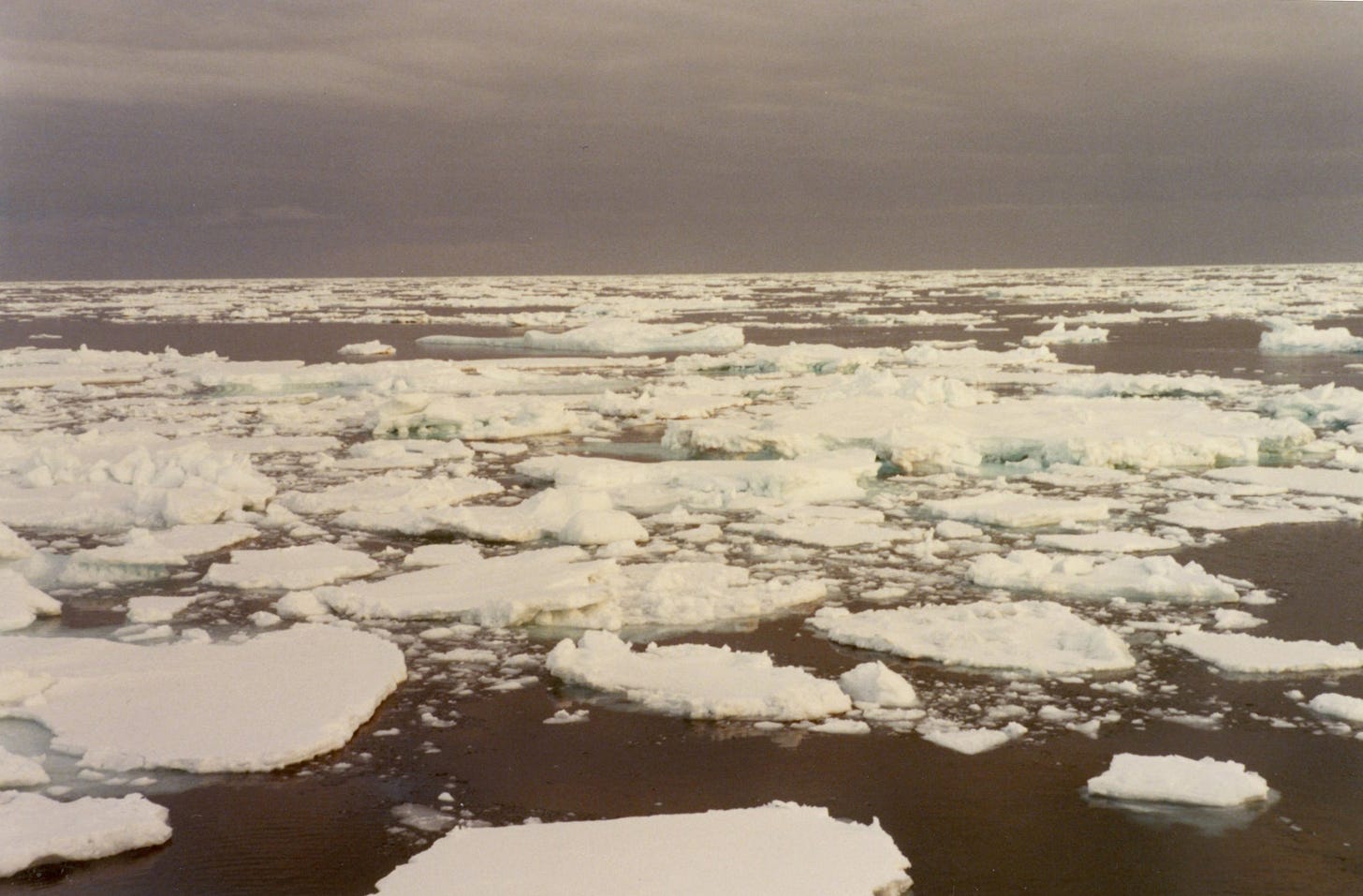 Of course all this melting ice introduces a huge influx of fresh water into our oceans. If this should disrupt the circulation in the North Atlantic then Europe's climate could become more like Labrador, an ironic twist for a warming world, and of course, a scenario that several authors have explored. Angela Kecojevik imagines just such a frozen world in her forthcoming novel, Train.
Then there is sea level rise. It is estimated that if the Greenland Ice cap were to melt global sea levels would rise by about 7 metres. Should all the ice caps melt sea levels could rise by 70 metres or more. With most of the world's largest cities being in low lying or coastal regions we have a potentially catastrophic scenario building.
Many authors have incorporated global sea level rise into their stories when addressing climate change. It doesn't take a great deal of sea level rise in order to have a dramatic effect on our world. Many places are below or barely above sea level. A rise of only a few metres could obliterate Bangladesh, Northern Germany or the Netherlands.
In both my own novel Red Rock and Marcus Sedgewick's Floodlands there has been a relatively small sea level rise. Floodlands is set in the Fenlands of East Anglia which will be one of the first parts of the UK to be inundated. This will happen with a sea level rise of no more than a few metres. In Red Rock a twelve metre sea level rise has resulted in Cambridge becoming a wasteland of tidal mudflats and abandoned buildings.
In Always North, Vicki Jarret has gone with the more extreme sea level rise of 50-60 metres, as has Emmi Itӓranta with Memory of Water. Cities and entire countries and underwater and whole populations have been displaced.
But sea level rise isn't the only effect that the warming oceans will have. Warmer oceans mean more energy being introduced into the atmosphere and this feeds into more dynamic weather systems. In other words, fiercer and stronger storms. We are already seeing these extreme weather conditions across the world. Hurricanes that are larger than normal, and more of them.
Julie Bertagna takes all this into consideration in her novel Exodus. As well as flooding caused by the rising seas, the lower lying cities have been subjected to repeated storm surges which has made them unviable. The world as we know it has fallen apart.
All these novels emphasise the fragility of the civilisation we have built. It's frightening to think how fast everything could unravel and that any of these scenarios could be our future. These books may be fiction but the underlying science surrounding climate change is solid. Human activity is having a profound effect on our planet and hopefully our stories will help to draw attention to the catastrophic results climate change could have if left unchecked.
Let's hope our fiction doesn't become reality.
You can learn more about Red Rock here.
Kate Kelly
Kate Kelly is a marine scientist by day and a writer by night, with short stories published in a number of SF magazines and anthologies, often inspired by her fascination with the sea. Her first novel, Red Rock, a Cli-Fi adventure for young adults, was published in 2013 by Curious Fox. Kate and her family live in Dorset UK and when she is not writing she takes to the sea on her paddleboard, or can be found wandering the remoter stretches of the South West Coast Path.
Categories: Thriller, Dystopia, Young Adult
Published by Curious Fox (out now)
The ice caps have melted. The coastal areas we once knew are gone, and only scavvers now live in the flooded towns. The world has changed, but as 14-year-old Danni Rushton soon discovers, it isn t the first time… Living with her uncle after the tragic death of her parents, Danni s world is turned upside down when her aunt is assassinated. With her dying breath, she entrusts Danni with a strange, small rock. Danni must not tell a soul that she has it.
But what is the rock for, and to what lengths must Danni go to keep it safe? This action-packed adventure takes the reader from the barren terrain of Greenland, to the flooded ruins of Cambridge, and on to a sinister monastery in Malta. In her effort to save her uncle and evade a power-hungry space agency, Danni discovers that friends aren t always what they seem, and a rock isn t always just a rock…
---
Climate News
Dizzying pace of Biden's climate action sounds death knell for era of denialism [The Guardian]
Picture Books That Highlight Climate Change by league member Chitra Soundar
Aviva will use its 'ultimate sanction' to force action on global warming [Financial Times]
The North Sea oil giants fueling climate change with millions of tonnes in preventable emissions [Unearthed Greenpeace]
Other new member releases:
Kat Wolfe on Thin Ice (Wolfe and Lamb Mysteries #3) by Lauren St. John [Middle Grade Adventure]
Wench by Maxine Kaplan [Young Adult Fantasy]
P.S. What's up with the climate? by Bijal Vachharajani [Picture Book]
Hope Jones Will Not Eat Meat by Josh Lacey [Middle Grade activism]
---
While this newsletter will always remain free to read, I've set up the option of contributing to the administration costs of running the site. Essays and interviews are scheduled every two weeks for the next year, which is a lot of work to organise and upload. I'd like to receive enough donations to allow the league to hire a book publicist to process new applicants and schedule the newsletters, so that it's sustainable long term. All donations are appreciated!
---